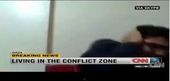 A Skype interview between CNN's Isha Sesay, Israeli citizen and Ashkelon resident Nissim Nahoom, and Mohammed Sulaiman, a Palestinian resident of Gaza, was suddenly interrupted by repeated bomb blasts. The two interviewees live on the two sides of the Israeli, Gaza strip border, separated only by a 15 minute drive, the CNN anchor notes. After the first few blasts, Sulaiman tried to keep talking and ignoring them, until a louder one gets him offline and interrupts the call.
"You can hear everything," says Sulaiman after the blasts go off. "What was that noise we just heard?" asks the anchor.
The simultaneous Skype interviews were set up by CNN as a way to underscore the dangers or regular people who live on the front lines of the conflict that renewed Wednesday with the assassination of Ahmed Said Khalil al-Jabari, the head of Hamas' military wing. The airstrike has been followed by Hamas militants launching missiles towards Israeli cities as well as subsequent bombings by the Israeli Defense Forces (IDF) in Gaza.
On Friday, CNN's Isha Seshay aired a brief interview with an Gaza Strip resident and an Israeli, allowing the two to debate the causes and effects of the current situation in the region. At one point during the interview, however, bombings in Gaza cut the segment short.
Seshay spoke with Mohammed Sulaiman, a Palestinian living in Gaza who works for a local human rights NGO, and Nissim Nahoom, an Israeli resident who is the father of five and CEO of a local council. They live only about 15 minutes of driving distance apart, Seshay informed, and "they disagree on who's to blame for the current situation." From there, aired the interview.
Part of the way through, blasts could be heard in the back, startling Sulaiman. "You can hear everything," he said, refusing to let it interrupt the interview. "I am not going to comment on any of it. I'm not going to even allow these bombs to interrupt me from having this debate with you and your guest."
A bit later, the bombings abruptly cut off the interview. Coming back to the live segment, Seshay informed that Sulaiman was okay.