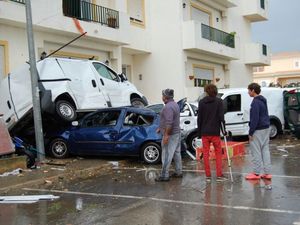 Unprecedented chaos tore through the Lagoa Sol urbanization (Lagoa, Algarve) today (Friday, 16 November) when a massive tornado literally ripped up the neighbourhood at around 1.30pm. Cars were tossed and flipped, trees uprooted, balconies, roof tiles and framework ripped off, windows shattered and vehicles tossed for metres.
Hundred of people have been left homeless by the freak incident in which the entire neighbourhood has been reduced to tatters, and many have been injured. Panicking parents rushed to a nearby-by school to collect their children who were in class when the tornado hit, and billboards on a nearby roundabout were mangled.
The exact extent of the damage and seriousness of the injuries are still being calculated. Abel Silva, born and raised in Lagoa, saw his ground-floor apartment destroyed in a terrifying incident which last minutes.
"It was overwhelming. All of a sudden my windows started shaking, the ground was trembling. I tried to hold the windows but I saw they were going to blow I so I threw myself to the side. The entire house has been destroyed. I've never seen anything like this before."
Other people in a nearby café said: "The sky turned pitch black, the wind became so strong you could see it, and it seemed like everything was shaking. The windows were rattling. A metal sheet from a nearby building site was ripped up. We were told to get back and stand away from the windows. The power went out. It was like something from a movie."
GNR police confirmed that there are serious injuries and many families have been left temporarily homeless.
Emergency services have been drafted in from neighbouring towns and are presently trying to bring the pandemonium under control.
Bad weather including strong winds, thunder and lightening has tormented the Algarve today (Friday, 16 November). There was a power shortage in Lagos caused by persistent stormy weather, the village of Ferragudo and city of Albufeira have flooded, and damage has been caused in several places across the region.
Residents in Silves told
The Portugal News
"it looks like a bomb has hit it." Eyewitness reports say a glass dome that sits on top of the Town Hall has been shattered.
In Alvor a roof has been ripped off a school and a café-kiosk in the heart of the village has been completely removed from its spot.
The National Civil Protection Authority has dispatched emergency services to Lagoa and Silves, from as far away as Beja, Setúbal and Évora.
Nearly one hundred men and 34 vehicles are at the scene. Information from their website confirms eight people have been injured as a result of the tornado and no deaths have been caused. An emergency rescue helicopter was also dispatched at 2.55pm.
The Weather Institute (IM) has now placed the Algarve under orange alert - a warning of moderate to high risk meteorological situation. Heavy downpours accompanied by strong winds and thunder are predicted. Waves could reach five metres. They also said freak weather situations cannot be predicted but the conditions are right for more to occur during the next few hours.
To see more pictures, follow
link