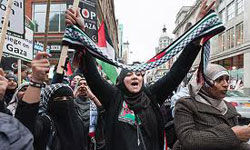 People in different parts of the world staged demonstrations to condemn Israel's crimes against the Palestinians, specially the ongoing Israeli onslaught on the Gaza Strip.
Rallies were held in London, New York City, Paris, Sydney, Beirut and Cairo against the ongoing assault by the Israel on the besieged Gaza Strip.
In New York, protesters gathered outside the Israeli Consulate on Thursday, calling for an immediate end to the attacks on Palestinians.
The protesters then marched to the Times Square and called on the US administration to stop supporting the Israeli regime.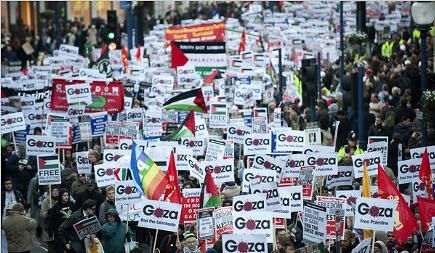 A similar demonstration was held in the French capital, with pro-Palestine activists protesting near the Ministry of Justice and asking the government to clarify its stance on Israel's deadly offensive.
Protesters chanted anti-Israel slogans while waving Palestinian flags.
In Lebanon, protesters held a demonstration outside the UN headquarters in Beirut, condemning the silence of the West over the death of civilians in Gaza.
The angry protesters also asked the international community to take action to stop the Israeli aggression.
Meanwhile, activists in Australia gathered outside the Max Brenner Chocolate Shop Chain in Parramata district of Sydney, as the chain is affiliated with Israel's second largest food and beverage company, Strauss Group, which provides Israeli army units with the so-called "Care Packages."
In Egypt, hundreds of Egyptians have demonstrated in Cairo to protest the recent wave of Israeli attacks on the Gaza Strip.
Protesters also called on President Mohammad Mursi to cut all ties with the Tel Aviv regime.