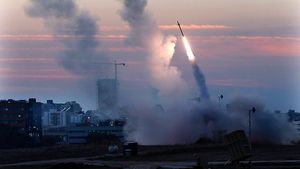 Several rockets fired from Gaza Strip have hit the Israeli capital, Tel Aviv, forcing police to open all underground bunkers in the city.
Two of the rockets have reportedly hit a commercial district in Tel Aviv, but there was no report of possible casualties. A number of rockets were also fired toward the Israeli parliament, Knesset.
Israeli police, however, claims that only one Palestinian rocket was fired at Tel Aviv, landing in the sea off the city.
Air raid sirens were also heard in the Israeli cities of Ashdod, Ashkelon and Be'er Sheva. There are reports of looting in Be'er Sheva as residents took cover in bunkers.
Earlier on Friday, a Palestinian rocket hit an Israeli army vehicle; Palestinians say the bodies of several Israeli soldiers have been seen scattered around.
Israel's Channel 2 said over 50 rockets had been fired from Gaza Strip into the Israeli-occupied territories on Friday. Israeli sources say 507 Palestinian rockets have landed in Israel since Wednesday.
Meanwhile, residents of the besieged Gaza Strip say they are getting text messages warning of military escalation as reports suggest that Israeli military forces are preparing for a ground invasion of Gaza.
The Israeli regime has called up 30,000 army reservists for a possible ground invasion of Gaza following Prime Minister Benjamin Netanyahu's announcement that the military was preparing for a "significant widening" of its attacks against the Palestinian territory.
Senior cabinet minister Moshe Yaalon said on Friday that Israel was considering a ground operation against the Palestinian enclave.
The fresh round of violence comes after Israel launched a series of airstrikes against the Palestinian territory, killing tens of people, including senior Hamas commander Ahmed Ja'abari, on Wednesday.