The
IDF has announced it has assassinated Ahmed Al-Jabari
, the head of the Ezzedine al-Qassam Brigades, the Hamas military wing. It is the start of what
an IDF spokesperson on Twitter
called "a widespread campaign on terror sites & operatives in the #Gaza Strip, chief among them #Hamas & Islamic Jihad targets." The IDF has named the attack "
Pillar of Defense
."
One Israeli television analyst
reported that the strike
on Jabari was planned months ago. The IDF spokesperson's
office said that
"All options are on the table. If necessary, the IDF is ready to initiate a ground operation in Gaza."
RT.com
is reporting that Israel has initiated an emergency call up of reservists to prepare for the possible invasion.
More casualties are being reported from Gaza. Israeli channel 10 has reported that Ahmed al-Zahar, the
brother of Mahmoud al-Zahar, a major Hamas figure,
was killed along with Jabari, although
Haaretz is reporting
that it was his assistant Mohammed Hams who was killed in the car with him.
The assassination breaks a day-old lull in what was intense fighting between the Israeli military and Palestinian fighters in Gaza. A tacit truce was
reached with the help of Egypt
, but Israel has now broken it decisively.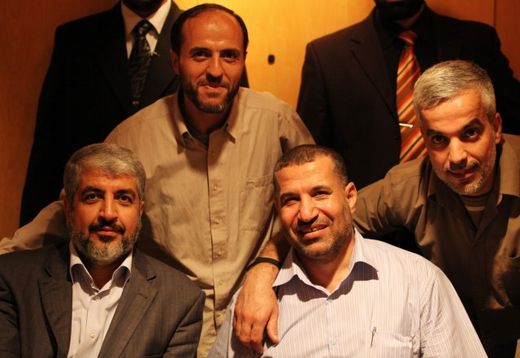 Jabari, the Hamas leader, brokered the Palestinian side of the 2011 deal that freed Gilad Shalit, the Israeli soldier held captive in Gaza for over five years.
There are also rumors of other assassination attempts, though they are just unconfirmed reports at the moment. Ramallah-based journalist Dalia Hatuqa
tweeted
: "Sources confirming, others denying killing of Raed Al Attar, Al Qassam Brigades southern front commander."
Extrajudicial assassinations have long been a favored tool of the Israeli military, though in recent years they have stuck to killing leaders of other militant groups rather than Hamas, the ruling group in Gaza.
A massive response from Hamas is expected. The al-Qassam Brigades
issued a statement
following the attack saying, "the occupation has opened the gates of hell on itself." Gaza-based writer and activist
Joe Catron
tweeted:
Joe Catron @jncatron

I've rarely heard such outspoken anger in #Gaza's public discourse. This attack will be answered like few before it. #GazaUnderAttack

14 Nov 12
There have also been reports that Israel is targeting police stations in Gaza. The beginning of Operation Cast Lead at the end of 2008 saw the Israeli air force target and kill hundreds of police officers affiliated with Hamas. The legality of those operations depends on the context; read
this Human Rights Watch Q and A for more on the targeting of police stations.
It will also be important to keep an eye on Egypt, which brokered the truce between Palestinian fighters and Israel. The last time there was an escalation between Gaza fighters and Israel, protests in Egypt
arguably helped put more pressure on Israel to stop the fighting.
A major Israeli operation in Gaza will be a test to see whether an Arab world in revolt can rein Israel in.
Twitter user
RoadtoPalestine
posted this photo with the caption "
4 airstrikes
":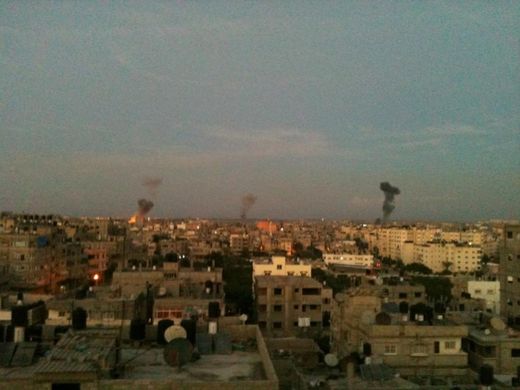 It's important to note that elections are coming up, similar to when Israel launched the devastating assault on Gaza in 2008-09. It seems that Israeli Prime Minister Benjamin Netanyahu wants to burnish his credentials ahead of the election. So far there has been wide support for the attack from political rivals. The Kadima Party chairman Shaul Mofaz
said
, "I congratulate the prime minister on returning to the policy of assassinations; all those in the chain of command of terror organizations need to live in a constant pursuit." The Labor Party's Shelly Yacimovich
said
,"Israel is united in its war against terrorism."
We will continue to
update this post
as news becomes available.