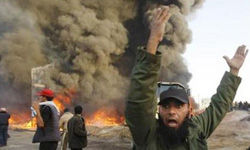 The Palestinian Islamic Jihad's Al-Quds Brigades condemned the Wednesday assassination of a Hamas top military commander by the Israeli regime, and warned that it sees no redline to respond to Israel's heinous act.
The Quds Brigades announced that Israel should take full responsibility for its crime, and added that it will not restrict itself to any redline in reacting to this assassination.
The announcement came after the Zionist regime assassinated deputy chief commander of Ezzedine al-Qassam Brigade, the military wing of the Palestinian movement Hamas, Ahmad al-Jabari by striking his car today.
After weeks of incursions and strikes on Gaza, the Zionist regime launched a new wave of offensives on the Palestinian enclave and announced today that it is in full state of alert.
On Wednesday, the Israeli army started fresh attacks on Gaza's residential areas killing defenseless civilians, including women and children. Israel's air strikes and artillery raids on Gaza are still continuing and a thick cloud of black smoke has covered its sky, it said.
According to some regional media, Hamas has confirmed al-Jabari's martyrdom.
Iran on Wednesday condemned the Zionist regime's fresh strikes on the Gaza Strip, describing the attacks as another example of the regime's "barbaric nature".
Iranian Foreign Ministry Spokesman Ramin Mehman-Parast deplored the Zionist regime's assaults on the coastal enclave which have resulted in the killing and injuring of dozens of civilian Palestinians, and said the onslaughts are another "sign of the regime's brutal nature".
He further blasted the international community, specially human rights bodies, for keeping mum about the Israeli atrocities against the Palestinians, saying their silence persuades the Zionists to "continue with their anti-human crimes".
The spokesman further mentioned that Israel is seeking to hide its internal problems by diverting the world public opinion through such actions.