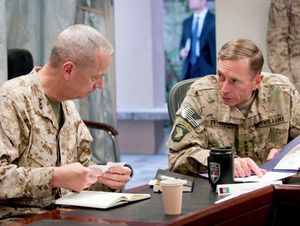 Who knew what and when? Why did Jill Kelley ask for diplomatic protection? And shirtless photos from an anti-Obama FBI agent? (UPDATED)
T
he start of this crazy scandal
:
Last Friday, David Petraeus - a retired Army general revered for his roles in the Iraq and Afghanistan wars - resigned as director of the Central Intelligence Agency after revealing that he'd had an affair with his biographer, Paula Broadwell. It soon emerged that the FBI had been investigating Petraeus' paramour for months, eventually stumbling across their relationship.
Wait -
who
did
what
, now?
Petraeus, who at different points in the past decade oversaw the Iraq War, Afghanistan, and the CIA's drone program, engaged in an affair with Broadwell, an Army Reserve officer and commentator on military affairs. The two met in 2006, when Petraeus addressed Broadwell and her graduate school colleagues at Harvard. Two years later, she began a Ph.D. in war studies and started to compose a book-length analysis of Petraeus' wartime leadership. He eventually granted her unfettered access, including lodgings on his Kabul base when he
took control of the war in Afghanistan
in 2010.
Broadwell's access continued after Petraeus retired from the Army and took over at the CIA in late summer of 2011. Her research culminated in an glowing biography titled
All In: The Education of David Petraeus
, which was released earlier this year. According to news reports, sources close to Petraeus insist that the affair began after he left the Army; if it began before then, he (and Broadwell) could potentially be prosecuted for adultery
under the military's legal codes
.
How did all this come to light?
According to
the Wall Street Journal
, the affair was discovered several months ago by FBI agents investigating harassment allegations against Broadwell. She reportedly used an anonymous email account last May to send threatening emails to a Florida woman, Jill Kelley. Kelley is a family friend of Petraeus who volunteers as an event planner at MacDill Air Force base, the Tampa installation where Petraeus was based when he ran the US Central Command from 2008-10. The emails
reportedly accused
Kelley, 37, of an inappropriate relationship with Petraeus. Kelley voiced her concerns to a personal friend who was an FBI agent, according to the
New York Times
, and the FBI began an investigation of the emails.
That inquiry quickly led agents to suspect Broadwell of sending the messages, and they secured a warrant to search her personal email, discovering intimate details of her affair with Petraeus. By late summer, they had learned that the CIA director had been using a Gmail account under a pseudonym to communicate with Broadwell, and they informed Attorney General Eric Holder and FBI Director Robert Mueller of the probe. Law enforcement officers began to investigate whether any sensitive or classified information had passed between the two lovers. (According to the
Journal
, federal agents are obligated by Justice Department policy not to share information with Congress and the White House on criminal investigations until they are completed.)
In late October, FBI officials interviewed Broadwell and Petraeus, and both separately admitted to the affair, though they stressed that they hadn't shared any classified data. Satisfied, the agents briefed James Clapper, the director of national intelligence and a friend of Petraeus, on the probe at 5 p.m. on November 6, Election Day. Clapper
reportedly
advised Petraeus to resign the next day. President Obama was informed of the matter Thursday, and Petraeus offered his resignation in the Oval Office. Obama accepted it the following day.
Is this part of an Obama administration conspiracy to cover up what happened in Benghazi?
Probably not, although the timing
has prompted a full-blown eruption
in the right-wing fever swamp,
as this New Republic compilation shows
. Here's a sample tweet of the Petraeus-Benghazi hysteria from conservative pundit Laura Ingraham:
Laura Ingraham @IngrahamAngle

POST-ELECTION INFO. DUMP: Did Petraeus delay resig. until after election? Imagine if voters knew truth abt Benghazi pre-election?

9 Nov 12
Petraeus was slated to testify before a congressional panel later this week on what the CIA knew about the September 11 attack on US installments in the Libyan city of Benghazi, which resulted in the death of US Ambassador Chris Stevens and three other American personnel. Now Petraeus
reportedly will not be testifying
; acting CIA Director
Michael Morell
will go in his place.
There is, however, an odd Libya-related twist in the story: In late October, Broadwell gave a lecture at the University of Denver in which
she asserted
that the CIA "had taken a couple of Libyan militia members prisoner and they think that the attack on the consulate was an effort to try to get these prisoners back." She added, "That's still being vetted." It's possible that she had gotten this info from Petraeus - she noted in the same breath that "the challenging thing for General Petraeus is that in his new position he's not allowed to communicate with the press. So he's known all of this." The CIA, however,
denies
that it ever held any prisoners at Benghazi. The CIA could be expected to deny such an assertion even if it was true. Hence it's unclear whether Broadwell was sharing privileged intelligence or merely passing on bum info from another source, though
Fox News today reported
that her assertion might have some credence.
What is Petraeus so famous for, anyway?
Perhaps no single American came out of the "war on terror" with as stellar a public reputation as David Petraeus, a Princeton Ph.D. whom the media credited with "
saving
" the debacle in Iraq,
revolutionizing the military
, and giving interviews
while running six-minute miles
at age 60. But the general cultivated much of this legendary status with shrewd moves - distancing himself from negative news and strategic setbacks, limiting media access to only preferred journalists, and taking credit for popular wartime trends. Military officers and reporters perpetuated what some are in hindsight calling the "
cult of Petraeus
," one that was used by successive presidential administrations to give their own strategic decisions greater sway with the public.
"[A]ll the profiles, stage-managed and controlled by the Pentagon's multimillion dollar public relations apparatus, built up an unrealistic and superhuman myth around the general that, in the end, did not do Petraeus or the public any favors,"
writes
Buzzfeed
's Michael Hastings, whose reporting got Afghanistan War General Stanley McChrystal fired two years ago and who has been critical of Petraeus in the past.
Who is Paula Broadwell?
Broadwell, 40, is a married mother of two, a fitness fanatic who graduated from West Point (Petraeus' alma mater) and holds an Army Reserve commission as an intelligence officer. She has two master's degrees and is currently working towards
a doctorate in war studies
from King's College London. A successful
writer and lecturer
, Broadwell has
garnered criticism
for her sunny portrayal of the military's operations in Afghanistan while working there with Petraeus. Most notably, in 2011
she praised the actions of a Petraeus subordinate
who ordered the complete leveling of a village called Tarok Kolache, offering
chilling before-and-after photos
as evidence of the operation's success.
Joshua Foust, an expert on Afghan counterinsurgency with the American Security Project, wrote months before the affair was revealed that Broadwell's take on Tarok Kolache invalidated her bio of Petraeus. "[W]hen the one tiny bit of Broadwell's story that I'm aware of is riddled with such half-truths, spin, and outright deception about what really happened, how can I possibly trust her and her co-author to tell the rest of David Petraeus' career (and his vaunted leadership skills) honestly?" he stated
last February
.
Read the rest of this article
here
.