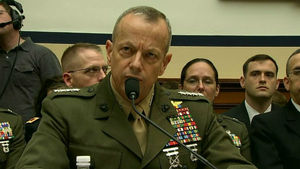 Gen. David Petraeus is the latest in a long line of powerful men in Washington whose career has been marred by an affair; Clinton and Lewinsky, Schwarzenegger and his love child - or for that matter, Edwards and his love child, Spitzer and the call girl.
The FBI alleged Gen. John Allen had "inappropriate communications" with Jill Kelley, the woman who reportedly received threatening emails from Paula Broadwell, according to the Associated Press.
Allen is a four-star general and the commander of the International Security Assistance Force in Afghanistan.
Broadwell, Petraeus' biographer, was identified as the woman who Petraeus had an affair with and the cause of his resignation.
An official told the AP that 20,000 to 30,000 pages of emails and other communications between Allen and Kelley since 2010 are under review.
The official added the emails are not believed to be sexual in nature, and Allen has denied any wrongdoing.
Kelley, 37, told the FBI she had been receiving threatening emails from Broadwell.
Kelley has been described as a Tampa, FL, socialite and an "unpaid social liaison" for MacDill Air Force Base, headquarters to U.S. Central Command. Her mansion was a frequent party spot visited by the military's top brass, including Petraeus.
Photos available online show Petraeus and his wife, Holly, posing with Kelley and her husband, Scott.
The
Washington Post
reported that once Kelley began to receive the emails from Broadwell, she asked Petraeus for help, but she later went to FBI.
FBI agents conducted a search at Broadwell's home in the Dillworth neighborhood of Charlotte, NC, on Monday night but would not confirm what they were looking for. Nearly a dozen agents carried boxes from the home and took pictures inside, according to WBTV.
Broadwell, who co-wrote the book
All In: The Education of General David Petraeus,
has not been seen at her home since she was connected to the adulterous affair.
Her sexual relationship with Petraeus increased concerns about national security because it was unclear what type of access to classified information Broadwell had.
She hinted during a speech at University of Denver last month that she had unconfirmed knowledge about the attack that killed four Americans at the U.S. Consulate in Benghazi, Libya.
"I don't know if a lot of you have heard this, but the CIA annex had actually taken a couple of Libyan militia members prisoner and they think that the attack on the consulate was an effort to get these prisoners back," Broadwell said during the speech.
Petraeus was originally called to testify about the attack during hearings this week, but that will not happen.
Defense Secretary Leon Panetta unveiled news of the investigation into Allen's role in the scandal Monday in a written statement.
"While the matter is under investigation and before the facts are determined, Gen. Allen will remain commander of ISAF," Panetta said.
Allen has been nominated to take over as the head of U.S. forces in Europe and as NATO Supreme Allied Commander in Europe. Panetta said that was on hold "until the relevant facts are determined."
Allen's confirmation hearing for the new position was set for Thursday in Washington.
President Barack Obama nominated Gen. Joseph Dunford, assistant commandant of the Marine Corps, to succeed Allen at ISAF.
"I respectfully requested that the Senate act promptly on that nomination," Panetta said.
Although she is not facing criminal charges, Kelley hired lawyer Abbe Lowell, famous for representing disgraced, high-profile clients such as former Sen. John Edwards and lobbyist Jack Abramoff.
The FBI began the investigation into the scandal and turned over its findings to the Pentagon, but did not immediately notify key members of Congress.
That drew the ire of federal lawmakers, especially Senate Intelligence Committee Chairwoman Dianne Feinstein, D-CA.
Feinstein vowed to find out why congressional intelligence committees were not informed of the FBI's investigation.
The responsibility of the executive branch to inform intelligence committee members of matters related to national security is spelled out in the National Security Act of 1947.
"The president shall ensure that the congressional intelligence committees are kept fully and currently informed on the intelligence activities of the United States, including any significant anticipated intelligence activity as required by this title," according to the statute.
White House Press Secretary Jay Carney reiterated Obama's confidence in the military on Tuesday and talked about the FBI's decision on when to inform Congress about the investigation that has lasted several months.
"They have, as I understand, protocols on when they notify the legislative branch of investigations," Carney said.
Petraeus resigned as head of the CIA on Nov. 8, citing an extramarital affair as the reason.
In his resignation letter, Petraeus said he exercised "extremely poor judgment" in conducting the affair.
"After being married for over 37 years, I showed extremely poor judgment by engaging in an extramarital affair," the letter, obtained by NBC News, stated. "Such behavior is unacceptable, both as a husband and as the leader of an organization such as ours. This afternoon, the President graciously accepted my resignation."