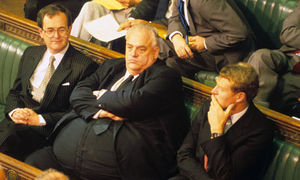 Simon Danczuk, the Labour MP for Smith's former constituency in Rochdale, described him as a "29 stone bully" who "imposed himself" on his victims whom he "humiliated and terrified".
The allegations were investigated by Lancashire Police in the 1960s but no action was taken.
Mr Danczuk said some alleged victims had only now come forward in the wake of the Jimmy Savile scandal and it was time to find out "why was this allowed to happen".
Smith's brother, Norman, said he was "staggered" the MP was blackening the name of Sir Cyril, who died in 2010, adding that the police found at the time that there was no case to answer.
Barry Fitton, a former resident of the Cambridge House hostel in Rochdale, told the website politicshome.com that when he was 15 Smith would make him strip, smacked his bare bottom and then stroked his buttocks.
On another occasion, Smith subjected him to a "medical" that involved him stroking his thighs and testicles.
Another former resident, Eddie Shorrock, who was 17, said Smith, who founded the hostel and had keys to its premises, also gave him a "medical" whenever he took time off work.
Mr Danczuk said a third victim, who wished to remain anonymous, had contacted him today to describe the "abuse meted out by Sir Cyril".
Rumours about child abuse dogged Smith for much of his life, and appeared in a local magazine and in Private Eye in 1979.
Mr Danczuk, referring to the recent Rochdale grooming scandal, said: "Attempts to suppress the truth are not new in Rochdale.
"Sir Cyril Smith was a political giant in Rochdale but his career was continually dogged by allegations that he had abused boys...these allegations must be properly investigated and the seriousness of the victims' complaints must be acknowleged.
"Young boys were humiliated, terrified and reduced to quivering wrecks by this 29-stone bully imposing himself on them."
Mr Danczuk made the comments during a debate on child sexual exploitation.
He said it had been suggested that the file on the case which was prepared by Lancashire Police was sent to the Director of Public Prosecutions at the time.
It has also been claimed that when the Coalition government was formed in 1974, when Smith could have been made a minister, Special Branch asked for a copy of the report from Lancashire Police. Smith, who never married, was reportedly questioned by police but was later told there was insufficient evidence for a prosecution.
A spokesman for Lancashire Police said: "We believe there was an investigation in the late 1960s but as no records are now held it cannot be ascertained whether a file was passed to the Director of Public Prosecutions.
"While we take matters such as this extremely seriously we have not received any further allegations and at this time there is no ongoing investigation in relation to this matter."