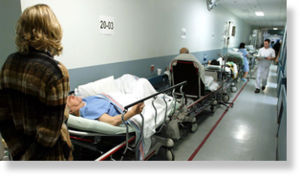 Thousands of people struck down by norovirus across the UK
Rate is up by a quarter on last year and higher than any point in past five years
The colder than average weather is believed to be partly to blame for the rise
The winter vomiting bug has arrived early, with rates already up a quarter compared with last year.
Health experts have confirmed that cases of norovirus are now higher in this period that at any comparable time in the last five years.
Although patients succumb to the illness all year round, rates usually peak in the winter between December and February.
But the Health Protection Agency says the seasonal rise has come a month early this year, with 1,207 confirmed cases since July.
This is up 27 per cent compared with the same period last year and is the highest level in five years.
Experts say that rates tend to vary fairly dramatically week on week, meaning rates could suddenly plummet.
John Harris, an epidemiologist specialising in the virus at the agency said: 'We are now seeing an increase in norovirus activity.
'Infections due to norovirus tend to increase from late autumn each year.
'Since the beginning of October we have seen a rise in the number of laboratory reports of norovirus.
'This number of laboratory reports in recent weeks is higher in comparison to the same weeks in previous years. However, norovirus activity fluctuates and no two years of norovirus activity are the same.
'Norovirus is highly infectious. Swallowing as few as 10 to 100 virus particles is enough to cause illness.' The illness usually causes vomiting, diarrhoea and some people may suffer from headaches, a temperature and stomach cramps.
But in most cases it resolves itself within a few days, without treatment.
Sufferers are advised to drink plenty of fluid to stay hydrated but are told not go to their GP in case they spread the illness.
Mr Harris added: 'People who are infected with norovirus should drink plenty of fluid to keep hydrated.
'Unless symptoms persist for more than three or four days people should not go to their GP or hospital but seek advice over the telephone from NHS Direct.
'It is important to practise good hand hygiene and avoid food preparation until 48 hours after symptoms have finished.'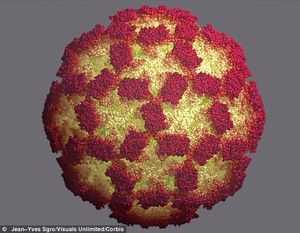 Norovirus can cause disruption for hospitals who have to close wards to limit the spread.
So far this year a handful of hospitals have been affected including Medway in Kent which last week shut one ward for five days.
At its peak last year, as many as 1,300 hospital patients were affected at one time, and 50 NHS trusts had to close wards.
Experts say rates can suddenly go up very quickly when the weather gets colder, as the virus survives better in lower temperatures.
Usually, it isn't life threatening but it can lead to severe dehydration in patients with underlying health problems, the elderly and the very young.
The virus can survive outside the body on any surface - such as lift buttons, stair rails or computer keyboards - for up to 12 hours.