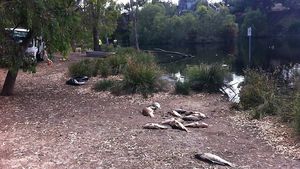 HUNDREDS of dead fish have been found washed up in St Peters Billabong.
Norwood, Payneham & St Peters Council workers were at the billabong, in St Peters Park, earlier this afternoon removing the dead fish.
A Norwood, Payneham & St Peters Council spokeswoman said a lack of oxygen in the water caused by decomposing leaves killed the fish.
She said the leaves swept into the billabong were predominantly from Second Creek.
The council was not concerned about the health of other wildlife in and around the billabong.
In 2005, hundreds of carp in the billabong were killed by dirty stormwater.
A faulty rubbish trap was believed to have contributed to those deaths.
The high carbon levels in the
stormwater
, caused by a mixture of leaves and road grime, reduced oxygen levels in the billabong, suffocating the carp.