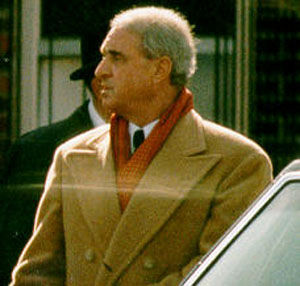 Giuseppe "Joe" Di Maulo, a venerable lion of the Montreal Mafia, was an amazing acrobat, or so went an unkind joke among mob hangers-on, although usually said in whispers. It was not because of any prowess in gymnastics but his ability to be so flexible - his speed at flipping to support a winning side.
Mr. Di Maulo's ability to spot and back a winner may have backfired Sunday night when someone killed him outside his large home in a suburb of Montreal, on a street nestled in the woods of a well-manicured golf course, where almost every home has a swimming pool.
And while the death of Mr. Di Maulo, 70, ended the life of a legendary mobster, it is the prospect of his murder being the beginning of something more that most concerns police.
It is precisely one month since Vito Rizzuto, long the overlord of organized crime in Montreal, returned to Canada from a U.S. prison, where he served eight years for three racketeering murders.
Mr. Rizzuto returned to find his organization in tatters, many of his key men gone - including his eldest son and father, both shot dead, and his brother-in-law, who was kidnapped and is presumed dead.
Also missing when the call came, sources say, was Mr. Di Maulo, who, despite his years of loyal service, had cast his lot with a renegade faction.
It was something Mr. Di Maulo had done before.
That may have made him the irresistible opening target of any revenge plot or reassertion of authority by the Sicilian faction of the Montreal Mafia that had violently been brought to the fore in the early 1980s by Mr. Rizzuto's father, Nicoló. The Sicilians took power after a deadly war against the Calabrian faction.
"I suspect this is only the beginning," said a police investigator who has probed organized crime in Quebec for years.
"A lot of these things will be symbolic. You do him in to send a message back to the Calabrians, a message that, 'I know it was you,' and a message to others in the same position, who are choosing sides."
Killing him at home, to be discovered by his family, was strikingly similar to the way Mr. Rizzuto's father was killed in 2010.
But if the recent bloodshed and turmoil in Montreal's gangland was worrying Mr. Di Maulo before his death, he did not much show it.
A relative of Mr. Di Maulo's told the National Post a few months ago that Mr. Di Maulo was doing fine, enjoying his large family and taking no unusual steps at protection.
He was, the relative said, acting just like any other Italian grandfather, doting on the family's newest generation. It is a family that will now be devastated by the slaying of the patriarch.
Mr. Di Maulo was killed outside his home in Blainville, north of Montreal, about
9:15 p.m. but police would not confirm he was shot in the head.
"I can say it was a violent death, but we are not revealing a specific cause yet," said Sergeant Benoît Richard of the Sûreté du Québec, the provincial police force leading the murder probe.
Nor are police certain it was a gangland hit.
"A lot of people are talking about the Mafia and a certain someone coming back to the region here, but when we have a murder investigation we begin the investigation with a clean slate.
"Is it a business partner? Is it a family member? Is it Mafia linked? Is it gang related? Is it Hells [Angels] related? I cannot state one more than another at this point," said Sgt. Richard.
"It would be easier," he said, if Mr. Di Maulo did not have so many notorious connections.
"Let's just say it broadens the investigation."
Investigators will be looking back across five decades of top-level underworld involvement in piecing together Mr. Di Maulo's life.
He was, above all, a survivor, which makes his murder so late in life even more notable. He had a talent for shifting with the times, whether in business or mob diplomacy.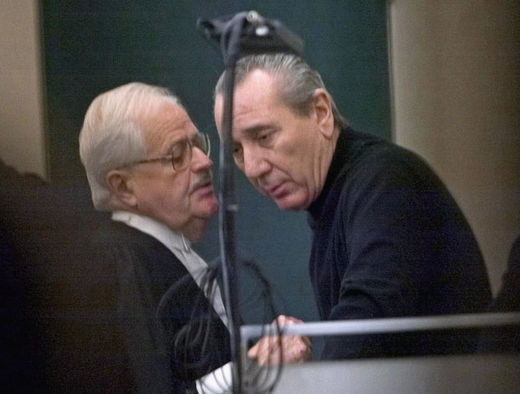 Born in Calabria, the southern region that forms the toe of the boot-shaped map of Italy, on March 31, 1942, he rose to prominence in Montreal as an active street warrior who endeared himself to the bosses of the day, who were also from Calabria. He attended their weddings and family functions.
He beat charges on appeal from a 1971 triple murder in the nightclub he managed, enhancing his street reputation.
In 1973, Mr. Di Maulo was asked to go to New York City to represent Montreal at a meeting of top mobsters who were selecting the next boss of the Bonanno Mafia Family, one of the notorious Five Families of New York, to which Montreal was a part of.
There was no higher sign of trust.
But when the old Montreal Godfather, Vic Cotroni, was dying of cancer and Paolo Violi, the de facto boss, was killed by the Sicilian faction, Mr. Di Maulo realized he was on the losing side and made a seamless transition to support the new guard, bringing other Calabrian soldiers with him.
His transformation complete, Mr. Di Maulo was again trusted to meet with the underboss of New York's Bonanno family, Salvatore "Good-Looking Sal" Vitale, when he came to Montreal in 2001 to meet with Mr. Rizzuto.
In 2003, he accompanied Mr. Rizzuto on a golf trip to the Dominican Republic and in 2005 joined the Rizzutos and the cream of Montreal's mob at the wedding of the daughter of one of Mr. Rizzuto's top men, Frank Arcadi.
But as the Sicilian faction's hold weakened after the arrest of Mr. Rizzuto in 2004, the arrests of the Rizzuto inner circle in 2006, and the murder of Mr. Rizzuto's son, Nick, in 2009, police believe Mr. Di Maulo again reconsidered his options.
He is alleged to have joined his brother-in-law, Raynald Desjardins, who is a drug trafficker with close ties to the Rizzutos, and Sal "The Ironworker" Montagna, the former boss of the Bonanno Family who was deported to Canada, to manage a transition to a new regime in Montreal.
It seems to have not gone smoothly.
Last year, Mr. Montagna was killed. Mr. Desjardins is awaiting trial on a charge of first-degree murder in his death. And now, Mr. Di Maulo has been included in the carnage.
After being found by family in the front of his house, a 911 call brought emergency crews rushing to the posh street. Paramedics worked to save him but he was declared dead at hospital.
Local police called in the Sûreté to lead the investigation once his extensive ties to organized crime became known. Investigators swarmed the area overnight, with tracking dogs and a helicopter flying overhead.
Officers have gone door-to-door asking neighbours if they heard or saw anything that night.
"We will be meeting with Mr. Di Maulo's family, friends and business partners to see if they are aware of any threats beforehand or any other information," said Sgt. Richard.
He would not say if investigators were interested in speaking with Mr. Rizzuto about Mr. Di Maulo's death, too.