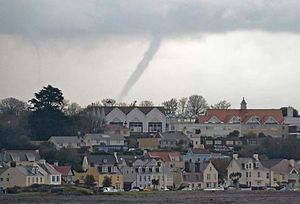 Some islanders frantically searched for their cameras after a funnel cloud was seen to the west of Guernsey yesterday.
Guernsey Airport senior meteorological officer Martin Crozier said the sighting had been recorded and reported to air traffic control at 8.20am.
'What we mean by funnel cloud, is a rotating cloud that descends from the normal cloud but doesn't necessarily touch the surface,' he said.
'If it touches the sea we call it a waterspout and if it touches land, it's a tornado and can do a lot of damage, but that's quite unusual.'
Funnel clouds are reported in or near Guernsey on average between three and six time each year.
.