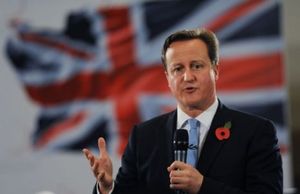 David Cameron has arrived in the Gulf at the beginning of a low-key arms trip aimed at persuading regional powers upset by Britain's response to the Arab spring to buy more than 100 Eurofighter Typhoon fighter jets. The deals could be worth more than £6bn to Britain.
The prime minister landed in Dubai on a mission to patch up relations with leaders in Saudi Arabia and the United Arab Emirates, where major British businesses such as BP and BAE have important interests.
Cameron, who is irritated by claims that he uses his overseas trips to sell defence equipment to countries with questionable human rights records, has made arrangements to minimise the media coverage of the trip.
But, speaking in Dubai on Monday, he insisted he would not shy away from raising concerns. "On human rights, there are no no-go areas in this relationship. We discuss all of these things but we also show respect and friendship to a very old ally and partner," he said.
He added: "We have one of the strictest regimes anywhere in the world for sales of defence equipment but we do believe that countries have a right to self-defence and we do believe that Britain has important defence industries that employ over 300,000 people so that sort of business is completely legitimate and right."
While in the UAE, Cameron will join forces with some of the country's senior political and military figures to inspect Typhoons at al-Minhad airbase, which is used as an air bridge for British forces flying between the UK and Afghanistan. Britain hopes to persuade Gulf leaders to buy 100 Typhoons on top of the 72 bought by Saudi Arabia, where he will arrive on Tuesday.
The looming confrontation between Iran and its regional adversaries will also feature heavily in Cameron's talks with leaders in the Sunni-dominated Gulf countries. Britain could base Typhoons, built by a European consortium that includes BAE Systems, in the UAE if relations with Tehran deteriorate.
Reflecting these wider concerns in Dubai, Cameron said: "It is not just about trade and investment. We are also partners in defence and security; we worked together in Libya and Afghanistan and we will be talking about all the key regional and global issues."
While in the Gulf, the prime minister will be accompanied by only a small pool of two newswire reporters, a broadcast camera person, a broadcast producer and a photographer. Other journalists, making their own travel arrangements, are invited to attend a limited number of events, though it is impossible for those outside the pool to report on any aspect of Cameron's short visit to Jeddah in Saudi Arabia.
No 10 is restricting media coverage partly out of sensitivity to Saudi Arabia, which has been upset by Britain's response to the Arab spring. Prince Mohammed Bin Nawaf Al Saud, the ambassador to London, recently broke with diplomatic protocol to say that Saudi Arabia was "insulted" by the decision of the Commons foreign affairs committee to investigate Britain's relations with Saudi Arabia and Bahrain. British ministers have made clear that they have no control over a parliamentary committee.
But Daniel Kawczynski, the Tory chair of the all-party parliamentary group on Saudi Arabia, rallied to the kingdom's defence. He said: "There is a huge amount of prejudice in the House of Commons, as there is in the country as a whole, because you only ever hear negative press reports. People have a very distorted view of the kingdom. I would be very put out if the Saudis came to this country and challenged and berated me about all our social ills - whether neglect of the elderly or drug abuse or inner city crime."
Downing Street denied that the prime minister was seeking to limit press coverage of the trip. A No 10 spokeswoman said: "This is not a secretive trip in any shape or form. We have the media travelling on the plane with the prime minister - they will have access to the events he is doing in country.
"The prime minister will take part in a debate with Emirati students on Monday which will be broadcast in full and is open to the press. There is a complicated programme and there are logistical challenges as a result. But this is striking a balance between getting out there and helping British companies and giving the media access."
But No 10 has been trying for two years to restrict media access to the prime minister's overseas visits. This would make him the only leader of a G7 country who is not accompanied abroad by a full press corps.
Andy Coulson, the former Downing Street communications director, tried in Cameron's first months in office to recreate the arrangements in opposition when the Tory leader would take just one broadcaster with him on trips. Coulson failed but his successor Craig Oliver, a former BBC editor, is trying to reimpose the restrictions.
No 10 aides have complained that the prime minister is often asked questions unrelated to his official programme during overseas trips. There was irritation in No 10 during the prime minister's recent visit to New York and Brazil when journalists persisted in asking questions about the embattled chief whip Andrew Mitchell, who subsequently resigned.
Lord Green of Hurstpierpoint, the trade minister, is taking a parallel trade delegation whose members will meet David Cameron in Saudi Arabia and the UAE. The prime minister will attend a trade fair in Abu Dhabi which will be attended by BAE Systems and Rolls-Royce.
Cameron wants to persuade the UAE to buy the Typhoons to replace their ageing fleet of French Mirage jets. The Emiratis have expressed interest in ordering 60 of the jets. Oman has expressed interest in 12, while Saudi Arabia is considering placing a second order on top of the 72 it has already bought.