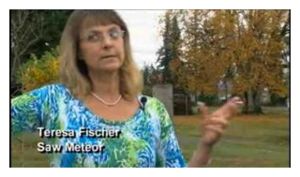 Arlington, Washington - Halloween proved to be an interesting night for law enforcement in at least four Western Washington counties after reports of a meteor falling to Earth.
The Snohomish County Sheriff's Office said deputies investigated a possible meteor falling somewhere near I-5 and Exit 212, between Stanwood and Arlington.
K9 Officers also responded, but nothing was found.
Deputies cleared the scene, but said they "assume it is a meteor, unless we hear otherwise."
An Arlington police officer confirmed seeing something fall from the sky.
The Federal Aviation Administration said they also fielded calls from people who reported they saw a meteor.
So far, nothing has been found.