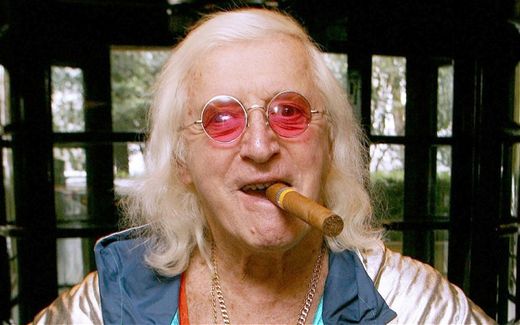 Jimmy Savile was considered a "psychopath" with a "liking for children" by the staff at the high security Broadmoor hospital during the 1980s, it has been claimed.
The new allegations came as his £4m estate was frozen in response to the mounting sexual abuse claims against the late television and radio star.
The former DJ was given full access to the hospital because of his fund-raising activities and would roam the corridors and take girls back to his flat on the campus, it was claimed.
Some nurses even joked that it should have been him behind bars such was his behaviour.
"I'd long considered him, as did my colleagues did, as a man with a severe personality disorder and a liking for children," Richard Harrison, a psychiatric nurse at Broadmoor for 30 years during Savile's tenure told Channel 4 News.
"I'd say he was a psychopath," said Bob Allen, a staff nurse at the time. "A lot of the staff said he should be behind bars. We used to laugh about it in those days."
Mr Allen described one evening when he saw the BBC entertainer in a car with a young girl who appeared to be 14 or 15 years old.
Savile and the girl went into the flat the star had been given to use at Broadmoor, Berkshire.
As Mr Allen walked away, the lights in the flat dimmed but nobody came out.
He said he reported it to his supervisor, who he believes did refer the matter up, but was told the following day that "no one appears to be interested".
Meanwhile NatWest Bank, which is acting as the Jim'll Fix It presenter's will executor and trustee, said the distribution of his assets had been put on hold because of the allegations.
Savile's estate is reportedly worth £4.3 million.
NatWest said in a statement: "Given the claims raised, distribution of the estate has been put on hold."
Savile's will was written in 2006 and bequeaths his savings and other assets to 26 separate beneficiaries, according to the
Financial Times (FT)
.
The newspaper said it had obtained a copy of the document which instructs that £20,000 in cash was to be shared between 20 of the celebrity's friends, family and neighbours.
It says a further £600,000 was to be put into a trust fund, with the interest shared between eight people.
The remainder - just under £3.7 million before expenses - was to be held by NatWest on behalf of The Jimmy Savile Charitable Trust, according to the
FT
.
Savile's intended individual beneficiaries include the trustees of both his charities and existing and former employees of Leeds General Infirmary and Broadmoor Hospital, the newspaper added.
Police are investigating claims that the star, who died in October last year, sexually assaulted individuals at both NHS sites.
Savile's estate was previously put on hold in July after a woman claimed to be his illegitimate daughter, the
FT
said.
It is believed the latest freeze may be in anticipation of legal claims for damages by Savile's alleged victims.
Scotland Yard is leading a national investigation into the television and radio star's activities. He is now believed to have been one of the UK's most prolific abusers, with about 300 possible victims.
Detectives are following 400 lines of inquiry as part of the investigation while the BBC has launched an inquiry into the culture and practices at the corporation in the era of Savile's alleged sexual abuse.
It is also looking at the decision-making process that saw a Newsnight investigation into Savile's activities shelved.
It also emerged Savile boasted that he slept with nurses in a hospital where he abused sick and disabled patients, one of his victims claimed last night.
Managers allegedly gave Savile his own room at Stoke Mandeville hospital in Buckinghamshire where several of his victims have alleged he abused them.
There are suspicions that a blind eye was turned to child abuse because Savile raised millions of pounds for the hospital. In a further disclosure, Edwina Currie, a former health minister who appointed Savile to a position at Broadmoor, said he had information that "gave him a hold" over staff. "As a result ministers were never given the information, when we could have barred him," she said.
Christine McFarlane, the director of nursing and patient care at Stoke Mandeville in the 1980s and 1990s, said she was unaware of the allegations against Savile. She admitted that staff gave him too much freedom because they were afraid he would "try to take his money away".
She told ITV News: "He walked through the doors everywhere because he was Jimmy Savile, nobody argued with him.
"There was a fine balance for them [staff] to reach in not upsetting Jimmy to the point where he was likely to walk away or try to take his money away."
Debbie Curtis, who first met Savile when she was 15 years old, said Savile spent years "pursuing" her. She claims he tried to sexually assault her after inviting her to the hospital to meet patients with spinal injuries.
According to Ms Curtis, who was 22 at the time of the alleged assault in 1987, he told her: "It's good living in nurses' quarters because they would often get into my bed at night."
Seconds later, Ms Curtis says Savile tried to sexually assault her.
She told ITV News: "He said sit down, so I sat on the edge of the bed. And then he proceeded to push me down and tried to get his hands down my pants.
"I pushed him away and said no, and with that he pulled his trousers down. He started saying I was a bit naughty. I kicked him as hard as I could in the groin, opened the door and ran."
Two other women claim they were sexually assaulted by Savile while at the hospital as teenagers. Another patient claimed he was fondled in Savile's Rolls-Royce at a Stoke Mandeville fund-raiser when he was nine.
A 1972 picture of the boy standing next to Savile's car in Portsmouth hours before he was abused was released by lawyers for the victim in an attempt to find out why Savile was in the area.
There were also further allegations about Savile at Leeds General Infirmary.
Terry Pratt, a former porter, claimed Savile frequently took teenage girls to a private hospital block after being given the keys in the 1980s. Mr Pratt says Savile began arriving at night with different girls who seemed "star-struck".
Leeds General Infirmary said it believed Mr Pratt was mistaken in his comments because he did not start working at the trust until 1990. The trust said it had been assured porters did not have keys for the nurses' accommodation.
A spokesman for Buckinghamshire Healthcare NHS Trust, which runs Stoke Mandeville Hospital, said: "We have no record of any incidents of this nature. We take the protection of our patients very seriously."
Nick Clegg, the Deputy Prime Minister has said "heads will need to roll" at the BBC if it is found that Savile's abuse was ignored or abetted.