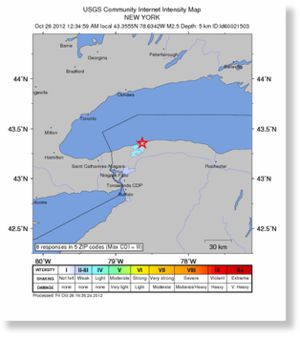 A minor earthquake is being blamed for causing a loud boom noise that was heard and felt in Niagara County early Friday morning. The
U-S Geological Survey
is confirming a 2 point 5 magnitude earthquake just outside of Olcott before one A-M this morning. They speculate that low-depth earthquakes can cause a loud noise especially in the Northeast United State.
We received word from viewers early this morning who heard the loud sound they say felt like an explosion around 1 a.m. Friday in Barker, Somerset, Olcott, and Newfane. There were even reports of some residents in Canada hearing and feeling it. Some thought that it may have been caused by a plane at the Niagara Falls Air Base, but the Base tells us that they don't own any planes or equipment capable of creating a sonic boom. The FAA also confirms that there were
no aircraft
in the area around that time.
USGS data