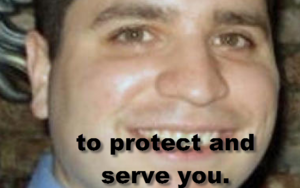 A New York City police officer was charged Thursday with plotting to kidnap, rape, torture and kill women, and then cook and eat their body parts.
Gilberto Valle was taken into custody by the FBI on Wednesday and suspended from the New York police department. He was expected to appear in federal court in Manhattan later Thursday.
In a
criminal complaint
, investigators cited numerous emails and other internet communications that portray a ghoulish scheme of torture and cannibalism. They allege Valle met one potential victim over lunch, but there was no information that any women were harmed.
"The allegations in the complaint really need no description from us," said Mary E Galligan, acting head of the FBI's New York office. "They speak for themselves. It would be an understatement merely to say Valle's own words and actions were shocking."
The name of Valle's attorney was not immediately available. There was no immediate response to a message left with the NYPD on Thursday.
According to the complaint, the FBI intercepted emails from Valle to an unidentified co-conspirator "discussing plans to kidnap, rape, torture, kill, cook and eat body parts of a number of women".
In one online exchange in July, Valle and another person talked about abducting a woman and eating her, the complaint said.
"I was thinking of tying her body onto some kind of apparatus ... cook her over low heat, keep her alive as long as possible," Valle allegedly wrote.
The complaint alleges that in February, Valle negotiated to kidnap another woman for someone else, writing, "$5,000 and she's all yours."
It says he added: "I will really get off on knocking her out, tying up her hands and bare feet and gagging her. Then she will be stuffed into a large piece of luggage and wheeled out to my van."
Valle, 28, lives in Queens. He had been assigned to a Manhattan precinct before his suspension on Wednesday.