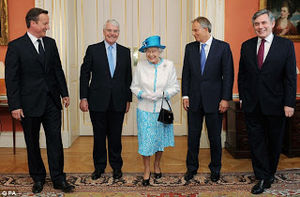 There is "clear intelligence" suggesting a historic paedophile ring may be linked to Downing Street and a former prime minister, MPs have been told.
Labour MP Tom Watson alleged a member of a notorious group was connected to a former No 10 aide.
He said: "The evidence file used to convict Peter Righton, if it still exists, contains clear intelligence of a
widespread paedophile ring.
"One of its members boasts of his links to a senior aide of a former prime minister, who says he could smuggle indecent images of children from abroad.
"The leads were not followed up
, but if the files still exist, I want to ensure that the Metropolitan Police secure the evidence, re-examine it and investigate clear intelligence suggesting a powerful paedophile network linked to Parliament and No 10."
Speaking at Prime Minister's Questions in the Commons, David Cameron said it was a "very difficult and complex case" and he was "not entirely sure" to which former prime minister Mr Watson was referring.
The Prime Minister said he would look at the case "very carefully and see what the Government can do to help give" Mr Watson the assurances he wanted.
Source: Press Association