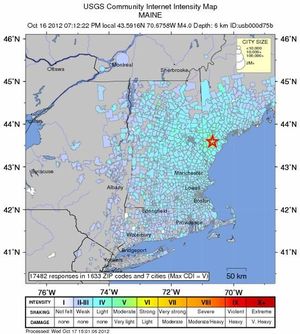 Some heard a loud bang. Others felt rolling vibrations. Still others thought it was a large truck, airplane, or helicopter.
The 4.0-magnitude earthquake that hit west of Hollis Center, Maine, at 7:12 p.m. Tuesday was different things to different people as it rumbled across New England.
"
We heard it coming - it sounded like an airplane at treetop level. The quake probably only lasted about five seconds
. It felt like it went up my driveway, under the kitchen and out the back yard. It was pretty cool," Bill from Northborough wrote on the "Feel the Quake?" forum on boston.com.
The earthquake surprised residents who rarely experience the phenomenon. Fortunately, no real damage was reported.
More than 7,000 people across Massachusetts, including people from 344 of the state's 351 communities,
submitted reports of feeling the quake
to the US Geological Survey's website. More than 500 people in Boston and 300 in Cambridge filed reports, according to the agency. Hundreds of people also
contributed accounts of the quake
to boston.com.
"I live in a house that's over 100 years old.
I've never felt any motion before. The house is solid, but this evening I felt it sway and almost ran out of the house.
It was very disconcerting. I live in Lexington on a high hill," Ashley Lieberman wrote.
"Yes, we felt and heard a rumble, that moved like a wave across the area, from the nothern part of the house, then underneath our feet, then over to the southern part. Okay, no damage, but kind of creepy nevertheless."

Submitted to Globe and Mail by

RD

Braintree, MA

Sent on October 17, 2012, at 10:47 am
Mary shared her experience from York, Maine, which is about an hour from the epicenter of the quake. "At first, after feeling what seemed like
a big bang
, including a loud sound, I thought something in the neighborhood blew up or that a car hit the house, but then the house started shaking and I realized what was happening. It was pretty scary! I was glad it discontinued after a few seconds. Hope I never feel one again," she wrote.
Dan B. from Newburyport said his house shook for five seconds and he first ran to the basement to check his furnace.
"I thought it was a large low flying helicopter
," he wrote. "It shook the nerves of my three children, all under 10 years old. We also have a calm dog who began to bark during the shake."
The shaking caused a low-level alert at the Seabrook nuclear power plant in Seabrook, N.H.
John Ebel, director of the Weston Observatory and professor of geophysics at Boston College, said some people might have had a few items rattled off shelves but that he has not received any reports of real damage.
"I've not heard directly of any damage and I would not expect any," Ebel said.
He was in Natick when the quake struck.
"I heard a kind of
muffled boom and rumble as though an explosion had gone off
half a mile away, but then the house really creaked and rocked for about five to 10 seconds," he said.
Ebel grew up in Missouri and completed his PhD in California, so he is no stranger to earthquakes.
He said the tremors from Tuesday night's quake were not as strong as those of a 5.6-magnitude earthquake he experienced in Missouri. Still, he said, the shaking he felt Tuesday night was comparable to some of the quakes he has felt on the West Coast.
Earthquakes on the East Coast are felt three to four times farther than earthquakes of the same magnitude on the West Coast, he said.
East Coast quakes are farther-reaching because cold rock transmits seismic waves without absorbing seismic energy, he said. Waves die much faster on the West Coast because warmer rock absorbs energy.
"If you were to drill 20 miles deep into rock" on each coast, "you would see much higher temperatures on the West Coast," Ebel said.
Jason Johnson, deputy chief of the fire department in Hollis, Maine, the epicenter of the quake, likened the experience to the tremors felt during a quarry blast.
"It almost felt like a boom and you could hear it rumble, and then the ground kind of sunk underneath your feet," Johnson said. "It was quite interesting."
Johnson was on the scene of a fire when he felt the blast and said the town's emergency dispatchers were immediately inundated with phone calls. Some residents called to report issues related to the earthquake, while others called to find out what had caused the shaking, Johnson said.
"People panicked,"
he said. "We had a lot of complaints of fires in the house, furnaces blowing up. It turned out to be that there were no real serious issues."
Johnson said there were no injuries to report.
"It came and went," he said. "Everything's pretty much back to normal. We really didn't sustain much in the way of damage."
Concord, N.H., fire Chief Dan Andrus did not feel the earthquake.
"It was pretty much a non-event up here," he said.
Andrus said the fire department received one call at 7:29 p.m. from a woman who felt her house shake and wanted firefighters to check her property.
The rest of the calls were from residents who did not require an emergency response but were wondering if what they had felt was, in fact, an earthquake, he said.
"My wife was home and said it sounded like a 15-story building landed next to her," Andrus said.