The truth isn't out there ... it's been stored in a warehouse for 56 years. The National Declassification Center in College Park, Md., opened one of more than 100 cardboard boxes from the Air Force recently and came across a 114-page document from 1956 sure to interest the tin-foil-hat crowd: a document describing a secret program by the Air Force to build a flying saucer. "These records have been classified probably since their creation during the '50s," Neil Carmichael, director of the declassification review division at NDC,
told Popular Mechanics
, which first posted news of the complete document. "It's like somebody went into somebody's office, emptied out a filing cabinet, stuck it in a box, sealed it, and sent it off to the federal records center. It was deemed permanently valuable at some point in its life and that's why we have it today."
Last week, the group posted a few images and
a brief blog entry on the program
, which was estimated to cost just $3.2 million, the report said. But an NDC representative told FoxNews.com that the group is "in the process of digitizing" the entire document and has not yet released it onto its website.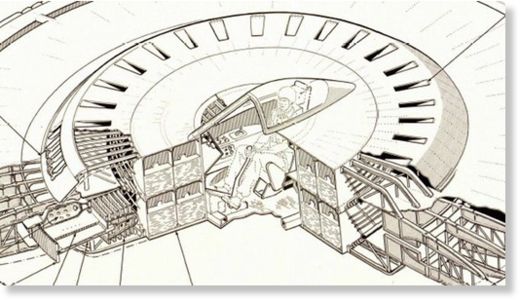 Additional images
Carmichael told FoxNews.com this document is just a drop in the agency's bucket. "We have about 400 million pages to get through the executive order President Obama signed in 2009," he said. "I tell my techs, 'If you find anything interesting, let us know.'"
And every once in a while, they find something good.
"Some of these reports are kind of interesting," he told FoxNews.com. Talk about an understatement!
The newly released documents, not yet posted on the website of the
National Declassification Center
, offer details on a Cold War-era plan to build a round, vertical takeoff and landing aircraft that can only be described as a flying saucer.
The disk-shaped craft -- which comes complete with an ejector seat and was powered by a "ram jet" -- was designed to reach a top speed of Mach 4 and reach a ceiling of more than 100,000 feet, according to the lengthy document, which is titled "Project 1794, Final Development Summary Report" and dated 1956.
It reveals that the Air Force had contracted the construction of the craft to a Canadian company, Avro Aircraft Limited in Ontario.
"Six Armstrong Siddeley Viper turbo-jet s -- 1,900 lb. thrust, 22.0" overall diameter, 525 lb weight each -- are mounted radially in the wing, exhausting inwards; and used as gas generators to drive a pair of contra-rotating centrifigual impellers by means of a radial inflow turbine," the document says.
Much of the 114-page document is devoted to detailed descriptions and schematics of the propulsion system, as tested in a scale model seen in a series of photographs. But the report appears to conclude that the flying saucer was better in concept than actual execution.
"The efficiency of the airframe at supersonic speed appears good and that of the engine reasonable, so that a long supersonic cruise range is also forecast," it said. But in testing, the craft -- essentially a glorified hovercraft -- simply didn't work as hoped.
"Apparently, as it gained in altitude, it would start to wobble uncontrollably," Carmichael explained.
The report notes a follow up plan to develop weapons suitable for the saucer, to allow it to be used as for reconnaissance, as an interceptor, or as a tactical bomber. Still, the concept of the U.S. Air Force attempting to build a flying saucer at the height of the Cold War is captivating, leading some to posit a connection between the rumors of a crashed saucer at Roswell, N.M., and the public fascination with Area 51.
After all, the Air Force dubbed it Project 1794 -- rearrange those numbers and you'll get 1947, the year of the Roswell incident.
"I've been doing this for 20 years and it never ceases to amaze me what we find in the records," Carmichael told FoxNews.com