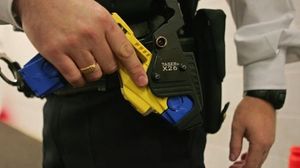 Police apologised on Wednesday after a blind man was tasered by an officer who mistook his white stick for a samurai sword.
The incident happened in the market town of Chorley in Lancashire on Friday after police received reports of a man walking through the town carrying a sword.
One policeman thought he had tracked down the offender and asked the blind man to stop. When he failed to do so, the officer stunned him with his Taser gun.
On realising the mistake, officers rushed the victim to a hospital where he was discharged after a check-up.
"Lancashire Constabulary deeply regrets what has happened. We have clearly put this man through a traumatic experience and we are extremely sorry for that," said Chief Superintendent Stuart Williams.
The incident has been referred to Britain's police watchdog, the Independent Police Complaints Commission.
Police confirmed that a different man was later arrested on suspicion of possessing an offensive weapon in the town.