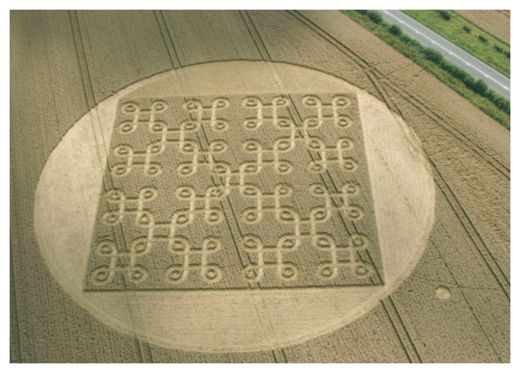 A spectacular crop circle in a wheat field alongside the A272 at Cheesefoot Head is the best of the year, says a Sheet expert.
The pattern is about 250 metres in size and appears to be a labyrinth design, which historically has been used for religious, ritual and magic purposes.
Lucy Pringle, a founder member of the Centre for Crop Circle Studies in Sheet, said the mile long endless looping pattern is the "best this year."
She said: "To me its labyrinth design represents our journey through life. I think it's beyond the wit of man to produce something as intricate as this, as its geometric precision is highly accurate. But however it got there, to me it personifies the wonderful spirit of the Olympic Games."
The field, just yards from the A272, belongs to Peveril Bruce, owner of the Matterley Bowl estate, venue of the Boomtown music festival, and there has been speculation about a connection between festival-goers and the circle. The pattern was spotted by a passing lorry driver, whose high cab allowed him to look down into the wheat field to view it.
To some the mysterious pattern resembles the ancient Tibetan Buddhist symbol of an 'endless knot' illustrating the eternal flow of time, and many who follow the religion say it represents the wisdom of Buddha.
Amateur pilot Matthew Williams flew over the field and said: "I'm a bit of a sceptic, but I don't know who could have made such an intricate design."
By starting anywhere in the design it is possible to walk every yard of the pattern carved through the wheat, ending up back at the start point.
Crop circles mysteriously appear annually in fields from spring onwards and throughout the summer. Sceptics claim they are made by vandals or pranksters, but others say they are left by visiting aliens.
Lucy Pringle is hosting a talk at Petersfield Community Centre in Love Lane on Saturday, October 13, which will cover the crop circle phenomena. Doors open 6.45pm, for a 7.30pm start. Tickets are £8 on the door.