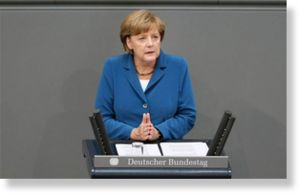 People in debt-stricken Greece are to stage a demonstration in the capital to protest against a planned visit by German Chancellor Angela Merkel, who the Greeks blame for pressuring their government to enforce harsh austerity measures.
Anti-austerity protesters are expected to take to the streets in Athens on Tuesday to take part in a protest organized by labor unions and opposition parties against Merkel's 6-hour-visit to the country.
"She does not come to support Greece, which her policies have brought to the brink. She comes to save the corrupt, disgraced and servile political system," Alexis Tsipras, the leader of the opposition Syriza alliance, said.
"We will give her the welcome she deserves," Tsipras added.
During her first visit to Greece since the eurozone economic crisis began in 2009, Merkel will visit Prime Minister Antonis Samaras, as his coalition government is struggling to get international lenders to agree on a new package of spending cuts.
Some 6,000 police officers will be deployed across Athens on Tuesday.
"We don't want her here. We will take to the streets against austerity and against the government. Maybe Merkel will hear something and see what we're going through," said Yannis Georgiou, a 72-year-old protester who has faced pension cuts.
Greece has been at the epicenter of the eurozone debt crisis and is experiencing its fifth year of recession, while harsh austerity measures have left about half a million people without jobs.
On October 1, Greek government unveiled its 2013 draft budget which includes measures that would affect pensions, benefits, and the salaries of civil servants to meet the criteria by the troika of lenders, i.e. the European Union (EU), the International Monetary Fund (IMF) and the European Central Bank (ECB).
The new austerity program includes slashing pensions by 3.5 billion euros, health cuts worth 1.47 billion euros as well as a 517-million-euro reduction in defense spending. However, the measures have not convinced the troika.