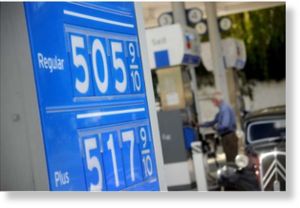 Los Angeles - Gov. Jerry Brown is taking action in an effort to drive down the cost of gasoline as California drivers cope with record-breaking prices at the pump.
For the second straight day Sunday, the statewide average price for a gallon of regular rose to an all-time high, hitting $4.655, according to AAA.
That topped Saturday's price of $4.6140, which broke the previous record high of $4.6096 per gallon set on June 19, 2008.
Due to a temporary reduction in supply, California gas prices in recent days have surpassed those in Hawaii to become the highest in the nation.
Brown on Sunday ordered state smog regulators to allow winter-blend gasoline to be sold in California earlier than usual to bring down prices. Winter-blend gas typically isn't sold until after October 31. Few refineries outside the state are currently making summer-blend gas, putting the pressure on already-taxed California manufacturers.
In some locations, fuming motorists paid $5 or more per gallon while station owners had to shut down pumps in others.
A station in Long Beach had California's priciest gas at $6.65 for a gallon of regular, according to GasBuddy.com. Meanwhile customers at an outlet in San Pablo paid just $3.49, the lowest price in the state.
The average for a gallon of regular was $4.69 in Los Angeles, $4.71 in San Diego and San Francisco, $4.55 in Sacramento and $4.90 in Santa Barbara, according to GasBuddy.com.
The dramatic surge came after a power outage Monday at a Southern California refinery that reduced supply in an already fragile and volatile market, analysts said. The refinery came back online Friday and prices were expected to stabilize in the coming days.
Patrick DeHaan, senior petroleum analyst at GasBuddy.com, predicted the average price could peak as high as $4.85 before coming back down.
Source: The Associated Press