The investigation into the DJ's alleged sexual abuse has unearthed a culture where celebrities exploited their power with impunity - and other names are cropping up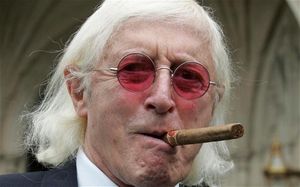 When Vera McAlpine is buried on Wednesday, having died last week at the age of 90, the friends and relatives attending the service will cast their minds back to another death in the family 41 years ago. And as they gather, they will inevitably wonder why Vera went to her grave never having seen justice done over the death of her daughter.
Clair McAlpine, a dancer on
Top of the Pops
, was just 15 when she took her own life by swallowing two bottles of sleeping pills on March 29, 1971. Vera had discovered her daughter's body lying on the floor of her bedroom at their home in Watford in Hertfordshire.
Beside the corpse were the empty bottles and Clair's red diary; a diary that contained disturbing claims written in the girl's own hand that suggest she may have been a victim of Sir Jimmy Savile's alleged sexual predatory instincts.
Savile, almost a year after his own death at the age of 84, now stands accused by more than 40 women of rape or sexual assault. Most of his victims were at the time of the alleged offences still teenagers; young, impressionable girls whom Savile groomed and preyed upon. When he passed away last year, Savile's death was mourned by a nation.
Thousands lined the route as his coffin was driven though his home town of Leeds. In life, he had been a national treasure, one of Britain's most famous broadcasters, who had raised upwards of £40 million for charity. In death, his life and times are being properly investigated and make uncomfortable reading. There are serious questions over the role played by the BBC in possibly covering up his alleged offences and even in aiding and abetting them. The culture of the times suggests famous men like Savile and others, such as the pop star Gary Glitter and the record producer Jonathan King - in King's case he abused boys - could allow them to prey on children and, despite the rumours and innuendo, get away with it for years
The Metropolitan Police have launched a formal inquiry following the string of allegations being made by victims too afraid to come forward when Savile was alive. Other broadcasters may become embroiled in the scandal. It emerged yesterday that another BBC employee, who is alleged to have procured girls for Savile and others, is himself being accused of rape. Gary Glitter, the pop singer, convicted in Britain of possession of child pornography and jailed in Vietnam for child sex abuse, is said to be a member of the same child sex ring.
The Sunday Telegraph
has heard tapes, passed to the police, which suggest Savile is molesting young girls as he records items for his radio programme
Savile's Travels
, first broadcast in 1968. In one, a young girl can be heard screaming as Savile tells her: "Watch how I operate," before adding: "I better play a record with the other hand." In a second recording, a girl can be heard pleading: "Get off... Get off my backside."
The contents of the tapes, discovered in a sound archive in Finland and dating back to 1975, should have been known to executives and producers working on the show at the time.
Yesterday, Liz Kershaw, a former Radio 1 disc jockey, said in a BBC interview that the station was imbued with a "culture I have never encountered before" when she began working there in the 1980s. She told the
Today
programme on Radio 4 that "there was one presenter who routinely groped me", and added: "I would be sitting in the studio with my headphones on, my back to the studio door, live on air, and couldn't hear a thing except what was in my headphones, the music playing or my own voice, and then I'd find these wandering hands up my jumper, fondling my breasts. I couldn't say anything, I couldn't even exclaim because I was broadcasting to the nation. When I complained to somebody, they were incredulous and said: 'Don't you like it, are you a lesbian?' "
Questions will now be asked about whether Clair McAlpine was a victim, too. She danced on
Top of the Pops
under the stage name Samantha Claire, although she was just 15 and living at home, having not long left school. The BBC didn't seem to mind that she was so young. Neither was age apparently a barrier for Savile who, back in 1971, at the time of Clair's death, was 44.
When she died, Scotland Yard scrutinised her diary but seemingly concluded Clair was a fantasist. She had named DJs who, she claimed, had "used" her. One of the DJs had taken her to his house for the night and given her a pill which made her feel like she was "floating on a cloud". Another had invited her back to his "sumptuously furnished" residence. The diary will now likely be of great interest to the authorities, although its current whereabouts are not clear.
She wrote in her final entry, the contents of which were read out at her inquest in 1971: "Well, I've got some of mummy's old pills. I am not sure what they are, so I am going to eat all those and some bread to keep it down. Bet they don't bloody work. I know it's awful, and I'm being very selfish. God bless XXX."
At the time of the death, Vera McAlpine had given an interview to newspapers in which she had expressed concern and revealed some of the diary's details. "I'd been worried about her for some time," she said. "She was mad about the pop scene and always talking about disc jockeys and pop stars she met and how wonderful they all were. She simply idolised them.
"I was very disturbed by other references in the diary, which mentioned many names. Some of the passages were so shocking that I would rather not repeat them. But the police know what they said."
Jenni Bale, a BBC studio manager at the time, and who knew Savile, is in no doubt that the DJ abused Clair. "I believe Clair lost her life all those years ago because of what was done to her," she said. She contacted police last week to ask them to look at the case again.
Clair's first cousin, Ray Calcutt, 52, told
The Sunday Telegraph
he had only vague memories of her. He was 11 at the time she took her own life.
But on Wednesday he will attend Vera's funeral as Savile's carefully constructed public image as a charity worker and do-gooder is being disassembled by a slew of women, now grown-up, who claim they were molested by him - and worse - so many years ago.
"Vera just died. We are burying her on Wednesday," Mr Calcutt said. "My aunt never saw justice done. I am sure at the funeral it [Clair's suicide] will be brought up. It wasn't properly investigated at the time. There are a lot of nervous people out there from that era."
The rush to open up old wounds was prompted by an ITV documentary broadcast last Wednesday, in which five women came forward to say they had been sexually assaulted or raped by Savile at a variety of locations, including at the BBC and at Duncroft Approved School for Girls in Surrey, where Savile had helped raised money and was a regular visitor. Their stories, told separately, are depressingly similar, suggesting collusion is unlikely. They tell of Savile, at one time a wrestler and with powerful upper-body strength, imposing his will and using his celebrity status to grope and rape young girls. One victim said she became convinced he wore his trademark tracksuit to simply make it easier for him to pull his trousers down before intercourse.
Since that documentary, many more women have come forward. The BBC and schools were not necessarily his only domain. Julie Thornton, now 80, claims she was in another hospital bed when she saw Savile abuse a teenage girl recovering from a brain operation at Leeds General Infirmary, another of the institutions that for years lauded the star, and where Savile worked as a volunteer porter. Another woman from North Yorkshire said she too was touched inappropriately by Savile in a lift at the hospital after undergoing spinal surgery there in 1973.
Leeds Teaching Hospitals NHS Trust said yesterday it was following events closely but had no record of official complaints. The same is true of the BBC. In an email to staff on Friday, George Entwistle, the director general, described the allegations as "deeply upsetting" and expressed his determination to "leave no stone unturned in our efforts to support the police".
But the truth is - despite many people seemingly knowing about Savile's behaviour - no official record of it exists at the BBC. "We have already carried out a thorough search of our written records," wrote Entwistle. "Crucially and regrettably, it appears no complaints were made at the time - and we have found nothing at this stage to suggest any known wrongdoing was ignored by management. Our checks are ongoing, and if we do find anything relevant, we will give it straight to the police."
Prime Minister David Cameron, asked by
The Sunday Telegraph
in an interview this weekend, said the BBC was doing the right thing in opening up its files and helping the police fully. "We have to let those processes take their course," said Mr Cameron, "They're very disturbing... I mean I haven't read all of them, but just some of the stories are extremely disturbing and they need answers."
One senior BBC presenter at the time said: "I always thought he was a horrible man, quite frankly. We all knew he was up to something - we just didn't know what." Liz Kershaw, brought in in the late 1980s to replace the old guard of the likes of Savile, said the rumours of his sick behaviour still abounded - as did the culture.
"I was one of the new breed that came in immediately after that, so I didn't meet him until 1997 when I went to his Leeds home to interview him, and I must say I found him rather sinister," she told the
Today
programme.
"But the rumours were there, the jokes were there. It was an open secret, and with all the piety about him when he died last year, I was rather sickened and I thought: 'Why don't people say what he was really like'?
"Around Radio 1, everyone joked about Jimmy Savile and young girls. The main jokes were about his adventures on the Radio 1 Roadshow, where they went around the country. It was massive then.
"It was rather like The
X Factor
going round the country then. Can you imagine
X Factor
judges rounding up the contestants and asking for sexual favours after the show? I don't think so."
Others from that era include Chris Denning, a DJ who started out like Savile on Radio Luxembourg and moved on to the BBC, where he was one of the original Radio 1 DJs, and who has a number of convictions for child sex offences. Denning, 71, was first convicted for gross indecency in 1974, jailed in 1985 and then in 1988 for sexual assaults on children. He is in jail in Slovakia for producing child pornography.
Even national treasures like John Peel, who died eight years ago, may now come under scrutiny. As a young man, he worked in Texas as a local radio station DJ and admits taking advantage of the young girls queuing up outside his studio to offer him sexual favours. "All they wanted me to do was to abuse them sexually which, of course, I was only happy to do," he once recalled. One of the teenagers was a girl called Shirley Anne Milburn. Peel was 26 and Shirley Anne just 15 when they married in Texas in 1965. The couple came back to London, but the marriage faltered as Peel's career took off. They divorced in 1973 and Shirley Anne returned home, committing suicide some years later.
During the 1970s, Peel would write a column in
Sounds
magazine in which he kept up a running joke that he preferred his fans to dress as schoolgirls. To illustrate the point, he dressed in a schoolgirl uniform for a magazine photoshoot.
After Jonathan King's conviction in 2001, intense speculation followed that Savile would be next. "There were several high-profile male celebrities whose names cropped up as a result of the King inquiry and Savile's was included in the list of those under suspicion," a police source told
The Sunday Telegraph
. "This related to the abuse of under-16s. He was looked into but at the time the suspicions were never proved. There was no firm evidence to link him with any criminal activity."
Savile escaped punishment in his lifetime; evaded the justice now being sought by his victims. His legacy will be a string of inquiries and a lot of older men worried what those might turn up.