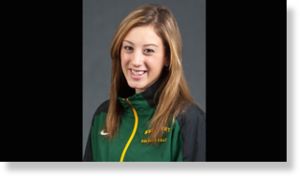 A New York college student has been charged with second-degree murder in the beating death of his 18-year-old girlfriend, who was found brutally assaulted in her dorm room, police said.
Alexandra Kogut, of New Hartford, N.Y., was found dead in her room at The College at Brockport by university police at about 2:45 a.m. Saturday. The cause of death was blunt force trauma, Monroe County Sheriff's Office Cpl. John Helfer told FoxNews.com.
Kogut's boyfriend, Clayton Whittemore, 21, was later arrested at a rest stop roughly 100 miles away and confessed to killing Kogut, a freshman communications major whose relatives remembered her as a "bright, beautiful" young woman excited to begin her college life.
Whittemore, also of New Hartford, had apparently visited Kogut during the weekend. The student at Utica college helped his high school hockey team with consecutive state titles in 2009 and 2010, WKTV reports.
Whittemore, who pleaded not guilty to second-degree murder during his arraignment Saturday, has nevertheless confessed to killing Kogut, Helfer said.
"He's made statements admitting to the crime," said Helfer, declining to elaborate on a possible motive.
Whittemore is now being held without bail in Monroe County. A preliminary hearing has been scheduled for Thursday.
Attempts to reach Whittemore's relatives were unsuccessful on Monday. The sophomore accounting student at Utica College had a decorated high school hockey career but did not play for the university, spokeswoman Chris Leogrande told FoxNews.com.
Counselors were made available to students at The College at Brockport throughout the weekend and will be on hand Monday, university spokesman David Mihalyov told FoxNews.com. A campus-wide remembrance ceremony will also be held Monday evening, he said.
"It's intended for students and faculty, primarily driven by the students," Mihalyov said.
In a statement released Sunday, The College at Brockport-State University of New York President John Halstead offered his "deepest condolences" to Kogut's family and friends.
"Our thoughts and prayers go out to her loved ones at this difficult time," the statement read. "These are trying times for our campus but I know we will pull together and support each other as we move through the coming days."
Kogut, who swam freestyle at Brockport, made a "tremendous first impression on people" due to her upbeat attitude and hard-working demeanor, swim coach Jason Morini told FoxNews.com.
"She was definitely the kind of kid every coach wants," Morini said. "She was a really dedicated, hard-working kid who made a great impression right away."
Morini said the team, which held its first official practice on Monday, will consider adding a patch to its uniform in honor of Kogut.
"There were definitely a lot of tears, but people pulled together," he said of the practice. "It was hard to focus, but we'll honor her by making her proud of this team."