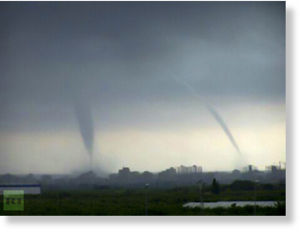 A tornado struck a fairground in Gandia, Spain, knocking down a Ferris wheel, damaging several rides and causing a power outage at the site. The twister left 35 people injured.
The fair was closed to the public when the tornado touched down, and all of those injured were fair workers, local media reported.
Fifteen people were seriously hurt and treated on site, the website for Gandia's town hall said.
The tornado ripped roofs off buildings, uprooted trees and overturned a truck which landed on cars.
Further North on the Valencia coast, two large cargo ships ran aground as a result of the high winds and seas.
In the provinces of Murica, Almeria and Malaga, 10 people were killed when the inclement weather caused flash floods that swept away cars and bridges and flooded many villages.