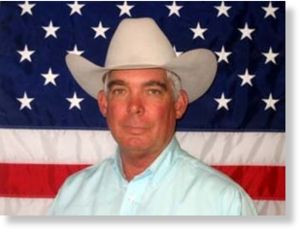 On Tuesday, night, Cochise County
Sheriff Larry Dever
was killed in a single vehicle crash while on his way to join his sons on a family hunting trip near White Horses Lake, according to the Coconino County Sheriff's Office (CCSO).
The
Tucson Sentinel
reports that an unidentified driver was actually following Sheriff Dever on the lonely Forest Service road, but lost sight of his 2008 Chevrolet pickup for a brief period.
Then, the driver "saw what appeared to be a cloud of dust, and as he came closer he learned that the vehicle had rolled over and was resting on its wheels."
The witness told 911 operators: "he did not detect any signs of life from the single occupant of the vehicle," according to a CCSO
press release
.
Sheriff Dever leaves behind a wife, six children and 11 grandchildren.
He will be remembered as a man who spoke truth to power and was not afraid to point out the lies coming out of Washington concerning the dangers faced by Americans living along the Mexican border.
In March 2011, Dever told Fox News that for two years, U.S. Border Patrol officials had been telling him they were ordered on multiple occasions to reduce and even stop apprehending illegal aliens crossing the U.S./Mexican border.
Sheriff Dever said that a Border Patrol supervisor informed him that the agency was ordered to keep the number of arrests down during specific reporting periods.
"The senior supervisor agent is telling me about how their mission is now to scare people back. He said, 'I had to go back to my guys and tell them not to catch anybody, that their job is to chase people away. ... They were not to catch anyone, arrest anyone. Their job was to set up posture, to intimidate people, to get them to go back,'" Dever said.
The following month, Dever told the Senate Homeland Security Subcommittee on Border and Maritime Security that the Border Patrol's new policy of giving a warning to illegal crossers rather than taking them into custody, known as "Turn Back South" was not only being practiced near the border, but far north of it as well.
Dever reported: "It appears, according to numerous reports from current and former border agents, that this practice has gravitated many miles north of the border. That means that, regardless of proximity to the border, people who are detected but not caught are considered to be 'Turned Back South.'"
The testimony was in direct conflict with the Obama administration's public assertions on border security.
Department of Homeland Security Secretary
Janet Napolitano
has been continuously telling us that the number of illegal aliens entering this country from Mexico has dropped substantially since Obama has became president, based on declining border apprehensions.
In February 2011, U.S. Customs and Border Protection announced that during 2010, illegal alien apprehensions fell by 36 percent from the previous year...Dever's revelation may explain why.