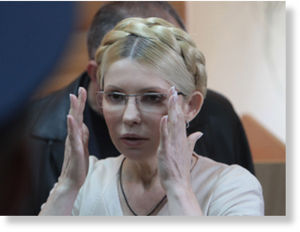 The US Senate has threatened to impose political sanctions on Ukraine over the jailing of former Prime Minister, Yulia Tymoshenko, urging Kiev to immediately release the opposition leader.
The Senate adopted a resolution on Saturday that stressed that the Tymoshenko trial was "politically motivated" and urged her immediate release citing her poor health condition.
The Ukrainian Foreign Ministry dismissed the resolution, saying in a statement that commenting on it would be "unreasonable".
It further claimed the resolution had been passed in great haste just minutes before the end of the session, with "less than half a dozen acting members of the chamber" still present.
"The friends of the Tymoshenko team did everything to bring into the Ukrainian media space yet another falsified pretext for groundless arguments and discrediting of the upcoming parliamentary election. These efforts go against Ukraine's national interests and are bound to fail," the ministry lashed out.
In October 2011, Tymoshenko - President Viktor Yanukovich's main political rival - was found guilty of abuse of office over a 2009 gas deal with Russia. Since then the former prime minister has been serving a seven-year sentence at a jail in the city of Kharkov.
The Senate resolution urged the State Department to recall the US Ambassador to Ukraine and suspend the embassy's activities until the former prime minister is released.
The legislators also proposed to impose visa sanctions on those responsible for Tymoshenko's detention - a move that would deny incumbent President Viktor Yanukovich and other top officials entry to the United States.
The resolution however is not binding and is only a recommendation.
Kiev has earlier come under harsh criticism from the US, the European Union and Russia over the way Tymoshenko was treated. European capitals have called on Kiev to commit to democratic principles and denounced the seven-year prison sentence handed to Tymoshenko as politically-motivated.
Moscow has repeatedly stressed that all the signed agreements fully correspond with both Russian and Ukrainian law.