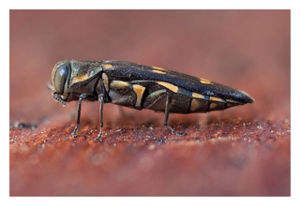 A voracious new pest is gnawing its way through East County. The gold-spotted oak borer has already killed over 21,500 trees in San Diego's inland regions. Infestations have been found on federal, state, private and Native American lands across 1,893 square miles.
"Has anyone driven through Japatul into Julian lately? We did last weekend and it was a very SAD sight! Almost all of the Oaks are BARE SKELETONS or half brown and going fast," Jerry Williams of Deerhorn Valley wrote in an e-mail to ECM.
In California, San Diego is the only region impacted so far. The hardest hit area centers around Rancho Cuyamaca State Park and the Descanso Ranger District in Cleveland National Forest. County Parks are also infested, including Dos Picos in Ramona, William Heise at Julian and Louis Stelzer in Lakeside. Ramona Patch
reports
that officials also fear the beetle has reached Volcan Mountain Open Space Preserve near Julian.
The infestion reaches from Pine Valley north to Lake Henshaw. At least two city parks, Marian Bear and Kate Sessions, also have trees under attack.
Native to Guatemala, southern Mexico and southeast Arizona, the beetle was first discovered in San Diego County in 2004. Experts believe it most likely hitched a ride into the area on firewood, since the gold-spotted oak borer can survive for years in dead woods. It can attack and kill coast live oaks, California black oaks and canyon oaks. Engelmann oaks and other tree species are believed safe from the pest.
The University of California, Riverside has set up a
webpage
with lots of information on the gold-spotted oak borer.
Symptoms of infestation include dark black or red staining, as well as D-shaped exit holes on the main stem and large branches, as well as crown thinning and dying of tree canopies.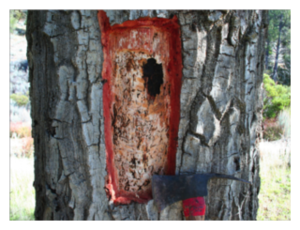 If you believe trees may be infested, report them
at this link
.
Removing bark, chipping, drying and covering cut wood are strategies that can help. For more details on containment strategies,
see this site
.
The beetles can fly up to 10 miles. They also can be transported on firewood. Thus officials urge that you do not move firewood. If you go camping, use wood available for purchase near the campground.
Unfortunately there is no known treatment yet for the gold-spotted oak borer, though research continues in hopes of finding an effective pesticide or bio-controls. But some
experts are suggested chemicals that may work, as well as other tactics to limit spread of this deadly oak disease.
Williams recently attended a meeting conducted by Dr. Tom Coleman of the U.S. Department of Agriculture.
The chemical that the expert recommends is called Sevin and it is fairly cheap compared to others if bought wholesale in quantity. You can only buy this if you are a licensed pesticide sprayer," he said, adding that some residents in Deerhorn Valley are considering banding together to combat the problem. Best time to spray is early May, he advised. In late April/early May, the bugs start exiting holes in trees to go mate and lay more eggs on more oak trees. "If they are locked in plastic that can't happen! Also if the trees that they lay eggs on are sprayed with Sevin, most of the bugs that touch that tree will probably die."
"We also really need to get info out to everyone about how to stop the insects from spreading," Williams said, adding that even coastal communities are now affected.
The best way to stop the spread is to debark trees, or cut the badly infested trees down and bag or cover the bark or logs with heavy gauge clear or white plastic to prevent the bugs from escaping and kill them. This needs to be done prior to next May. Some efforts to replant with new oak seedlings are also underway.
"Everyone needs to know that if your tree has more than 50 plus holes below 6' on the trunk then that tree is probably "not" going to make it," Williams said of the USDA advice, adding that the majority of trees on his property appear to be lost causes. " Dr. Coleman has stated the severity of this problem very clearly: "All of your oaks are going to die from this bug if nothing is done to stop them."
For East County residents, many of whom already suffered losses from wildfires and drought, that's troubling news indeed.
"Our trees are the reason most of us bought our properties and they are a huge part of the awesome beauty of our land," Williams said, then concluded with a plea to all East County residents: "Let's do everything that we can to save what's left and stop the spread into other communities."