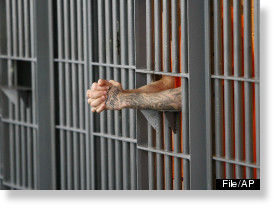 Phoenix - Authorities say a fight among 200 inmates at an Arizona state prison has left several of them injured.
Corrections spokesman Bill Lamoreaux says a unit of the Arizona State Prison Complex at Tucson will be locked down for several days as a result of Thursday's melee.
The
Arizona Republic
reports that fighting broke out around 5:30 p.m. in the Santa Rita Unit yard among some 200 inmates.
Lamoreaux says guards and other prison personnel gained control of the yard within a half hour without using force.
He says several inmates were injured, but did not provide details. The
Arizona Daily Star
reports that fire officials took 10 people to hospitals.
One prison staff member suffered a rib injury.
There was no immediate word on what sparked the disturbance.
Source: The Associated Press