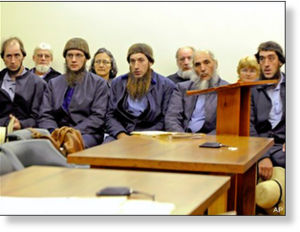 Cleveland - An Ohio Amish sect leader and 15 of his followers were convicted on Thursday of federal hate crimes in connection with a string of beard- and hair-cutting attacks on other Amish people last autumn that shook the religious community.
Samuel Mullet Sr. and each of his followers were found guilty on multiple charges stemming from attacks on six Amish men and two women, and likely face years in prison.
The jury verdict came on the fifth day of deliberations at a federal courthouse in Cleveland, which at times during the trial was filled with Amish spectators. Some witnesses said they had never been outside the counties of their birth before traveling to Cleveland for the trial.
Prosecutors contended the crimes were motivated by religious disputes between Mullet, 66, the leader of a sect in Bergholz, Ohio, and other Amish religious leaders who had accepted into their communities people Mullet had excommunicated from his.
"This was a crime of violence," U.S. Attorney Steven Dettelbach told a news conference after the verdicts. "From day one, this case has been about the rule of law and defending the right of people to worship in peace."
Defense attorneys said they would appeal the convictions. The defense called no witnesses, but attorneys had argued the assaults were the result of family or financial disputes and not religious differences, and therefore could not be classified as hate crimes.
Amish women and married Amish men do not cut their hair or beards as symbols of living a religious life. The Amish are known for their plain dress, simple living and shunning of technology.
'Nicks And Cuts'
Mullet's attorney, Edward Bryan, said jurors were left with the false impression his client had "Svengali-like control over the community."
He added that the assaults at the center of the trial resulted in nothing more than minor injuries, adding the defendants "are facing life in prison on nicks and cuts."
Mullet was convicted on seven of the nine charges against him. He was not present for any of the attacks, but prosecutors accused him of encouraging and even orchestrating them.
All 15 of Mullet's followers were convicted of at least one charge in addition to conspiracy. Jurors acquitted the defendants on charges related to an attack on one man whose hair and beard were cut, but who sustained no other injuries.
Jurors heard testimony that Mullet's followers had restrained the assault victims and forcibly cut their hair and beards, using scissors, clippers, shears and battery-operated razors.
Prosecutors and witnesses said the attacks were discussed openly by Mullet's followers, some of whom brought back hair they had cut off as trophies or took pictures of the victims to show Mullet.
Witnesses also testified to Mullet's power over the group.
Mullet's daughter-in-law testified she had been sexually intimate with her father-in-law in what the sect leader called "sexual counseling." She told jurors she believed it was wrong, but was too afraid to say no to Mullet.
Prosecutors presented recordings of jail-house phone calls between Mullet and his followers where they laughed about one beard-cutting attack and made plans for more assaults.
Federal guidelines call for a sentence of 210 months in prison for hate crimes. Some defendants remain out on bond, while others, including Mullet have been held without bond.
Judge Dan Polster scheduled sentencing for January 24.
Source: Reuters; reporting by Kim Palmer; Writing by David Bailey