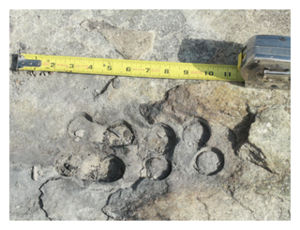 Historians are comparing it to the Taliban's destruction of massive Buddhist statues in Afghanistan: Ancient aboriginal pictograms and petroglyphs on an Albertan rock formation have been systematically destroyed by cultural vandals using a rock drill, acid and a power washer.
The obliteration of the etchings on the Glenwood Erratic near Pincher Creek in southern Alberta was discovered last week, just as an historian was about to photograph and test the markings.
"The site is part of the earliest heritage of Canada," said Michael Dawe, Curator of History at Red Deer Museum. "It looks like an ancient ceremonial/religious site at Glenwood, Alta., was deliberately destroyed. If true, this is a shocking and appalling incident."
The carvings formed a large face on the top surface of the stone, facing the sky, and also included evidence of early syllabic writing, said Stanley Knowlton, head of interpretive services at Head Smashed-In Buffalo Jump, a Unesco World Heritage Site.
"It is almost like someone wants to block this kind of research," said Mr. Knowlton, who discovered the destruction. The attack is a mystery, he said.
"Why? Well, that's the big question. If you find out why, you might be able to find out who."
He wonders if someone wants to destroy evidence suggesting the Blackfoot First Nations had a written language before European migration. The damage is the latest destruction of aboriginal pictograms and petroglyphs in Alberta, he said.
News of the loss is perplexing and troubling archaeologists and historians in the province.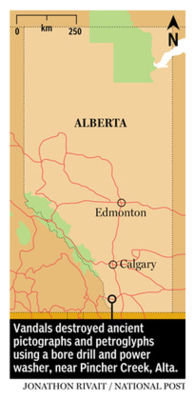 "As in the case of the deliberate destruction of early Buddhist carvings in Afghanistan and saints tombs in Timbuktu, any attempt to deliberately 'erase' an irreplaceable part of Canada's ancient cultural and/or religious heritage is outrageous and inexcusable," said Mr. Dawe.
"If this has happened in Canada, it should be denounced and those responsible should be prosecuted to the fullest extent of the law."
Mr. Knowlton has been visiting the Glenwood Erratic for more than a decade, partly as a historian and partly as a member of Piikani First Nation.
"This group of rocks are very revered by the native peoples," he said.
The presence of red ochre signified the rock was a sacred ceremonial site, perhaps thousands of years ago, he said, leading him to pause his examination out of cultural respect.
Starting about five years ago, he oversaw tobacco ceremonies and other aboriginal rites to prepare the way for a thorough examination and survey of the symbols, including plans to take samples from the ochre paint in the grooves of the carvings to determine how old they might be.
When the thick lichen that covered many of the symbols began to shrivel and flake after the hot, dry summer, he took that as a sign the site was prepared to give up its secrets.
"When the lichen started to come off, that was the signal that we were allowed in," he said. He planned his survey for the fall.
Mr. Knowlton arrived on the morning of Sept. 9 and noticed tire tracks leading toward the almost five-metre high rock that has vertical sides. Around its base, which is about eight metres wide with a similar length, the long prairie grass had been flattened by activity.
He placed his ladder and climbed to the top where he stood in dismay.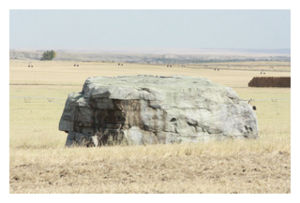 "To my absolute horror, I could see what kind of damage had been done. I just couldn't believe it."
The attack likely took place at night, to avoid being seen by nearby Hutterite farmers on whose property the rock sits, after being dropped there by a retreating glacier in the prehistoric past.
A power washer was apparently used to strip off the lichen to reveal the carvings and stained symbols. It appears acid was then sprayed to scorch off the painted images and destroy its value for date testing, Mr. Knowlton said.
A rock bore or hammer drill was used to repeatedly drill out the rock to obscure the carvings.
To do all of that would have required more than one person, a power generator, a pressure washer with a 100-litre water tank, a 1-1/2-inch electric hammer drill, appropriate bits, access to acid or a similar industrial-strength chemical, lights, ladders and a heavy truck, he said.
"It seems a deliberate effort," said Mr. Knowlton. "This isn't a theft or simple vandalism."
Another Alberta site containing aboriginal pictograms and petroglyphs was recently filled in with epoxy cement, while another blown up for use as gravel.
In a different type of incident, a rare dinosaur skeleton found near Grande Prairie was destroyed by vandals who had "smashed indiscriminately" the fossilized bones of the Hadrosaur, scientists involved in the dig said.