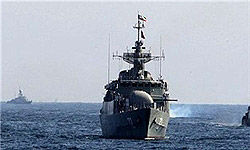 Iran on Tuesday launched a home-made missile destroyer at the order of the Commander in Chief, Ayatollah Seyed Ali Khamenei.
The Islamic Republic of Iran Sahand (IRI Sahand) missile destroyer was officially launched by the Iranian Navy in Iran's Southern port city of Bandar Abbas minutes ago.
Also today, the Iranian navy launched a heave submarine, named Tareq, after the subsurface vessel was overhauled by the country's experts.
In June 2012, Iranian Navy Commander Rear Admiral Habibollah Sayyari said the country plans to build new vessels and submarines in a bid to further boost its naval capabilities.
"New surface and subsurface vessels will join the Islamic Republic of Iran's Navy fleet in the near future," Sayyari told FNA at the time, adding that the Navy is due to build new vessels.
Speaking to FNA in June, Lieutenant Commander of the Navy for Technical Affairs Rear Admiral Abbas Zamini reminded that the designing and building of Jamaran destroyer, a Mowdge 1 Class vessel, showed Iran's high technical know-how and capabilities in manufacturing battleships, and added that the country is already manufacturing a second generation of the hi-tech vessel.
The construction phase of Velayat destroyer, a Mowdge 2 Class vessel, is 70% through, he said, and added that the vessel is under construction in Iran's Northern port city of Bandar Anzali.
The admiral declared that Velayat will be launched this Iranian year (ends on March 2013).
"In addition" the commander stated "construction of other Mowdge and Sina-class destroyers are underway including Mowdge 3 and 4 projects."
He further announced that construction of a Mowdge 5 class destroyer, named Sahand, will end in the near future, and the Navy vessel will be launched this year.
The Admiral noted the manufacture of Sina-class missile-launching frigates, and said that construction of three classes of this Navy vessel is on Iran's agenda.
He also mentioned that the Iranian defense ministry and the Navy are working on four projects to build four different classes of warships, and said the four projects are called Sina 4, 5, 6 and 7.
Iran's first home-made destroyer, Jamaran, was launched in late February 2010. The Mowdge Class vessel has a displacement of around 14,000 tons and is equipped with modern radars and electronic warfare capabilities and is armed with a variety of anti-ship, surface-to-surface and surface-to-air missiles.
Jamaran is also equipped with different kinds of weapons, including a powerful and smart missile named 'Nour' (light).