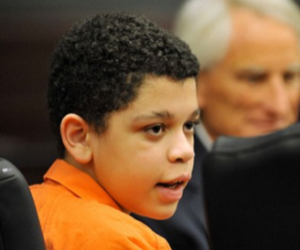 Cristian Fernandez was 12 years old when he smashed his brother's head against a bookcase, killing the two year old.
Now 13, Fernandez is being tried as an adult for murder in Jacksonville, Florida. If convicted, he could spend life behind bars, reports the
Daily Mail.
On June 3, 2011, police were called to a public housing project where Fernandez lived with his mother and baby brother. When police arrived they found Fernandez's baby brother, David, dead from a fractured skull.
His mother, Biannela Susana, told police that she had left Fernandez, David and her other children home alone. When she returned, she found David unconscious.
She then surfed the Internet for four hours, while her youngest child lay dying, looking for information on child concussions. She finally called the police, but it was too late.
The medical examiner said David might have survived if his mother had taken him to the hospital immediately.
Susana was charged with aggravated manslaughter and pleaded guilty in March. She may get 30 years behind bars.
Fernandez was charged with first-degree murder and another felony after his five-year-old half-brother told a therapist that Fernandez had sexually assaulted him.
Fernandez talked openly to police and therapists about his crimes and his life.
Fernandez, who was born as the result of a rape when his mother was only 12, grew up in poverty. For awhile he was raised by his grandmother, a cocaine addict who lived in a motel.
When Fernandez was 8, the Department of Children and Families investigated a report that he was sexually molested by an older cousin, reports the
Daily Mail
. Fernandez was also abused by his stepfather who punched him.