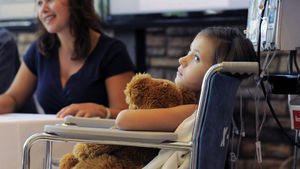 A 7-year-old girl is recovering in a Colorado hospital after being diagnosed with the Black Death, scientifically known as the bubonic plague.
The parents of 7-year-old Sierra Jane Downing thought she had the flu when she felt sick days after camping in southwest Colorado.
When she had a seizure, her father rushed her to the local hospital in Pagosa Springs. The emergency room doctor who saw Sierra Jane for the seizure and a 107-degree fever late Aug. 24 wasn't sure what was wrong either, and called other hospitals before the girl was flown to Denver.
A pediatric doctor racing to save the girl's life at Rocky Mountain Hospital for Children got the first inkling that she had bubonic plague. Dr. Jennifer Snow first suspected the rare disease after factoring in the girl's symptoms, a history of where she'd been and an online journal's article on a teen with similar symptoms.
"If she had stayed home, she could've easily died within 24 to 48 hours from the shock of infection," Snow said.
It was the first bubonic plague case Snow and her colleagues had seen.
The bubonic plague hasn't been confirmed in a human in Colorado since 2006, when four cases were reported, according to state health officials. But, this past June, a man in Oregon contracted the disease after a cat bit him while he was trying to take a rat out of its mouth. Federal health officials say that on average, seven cases are reported in the U.S. each year.
Sierra Jane's heart rate was high, her blood pressure was low, and she suffered a swollen lymph node in her left groin so painful it hurt to undergo the ultrasound that helped detect it, Snow said. However, the girl is recovering and could go home within a week, doctors said Wednesday.
"She's just a fighter," said her mother, Darcy Downing.
Downing said her daughter may have been infected by insects near a dead squirrel she wanted to bury.
Plague is generally transmitted to humans through the bites of infected fleas but also can be transmitted by direct contact with infected animals, including rodents, rabbits and pets. It can be treated with antibiotics.
Symptoms of the bubonic form of the plague in humans include fever, chills, headaches, vomiting, diarrhea and swollen lymph nodes in the groin, armpit or neck areas. Pneumonic plague, which is an infection of the lungs, can include severe cough, difficulty breathing and bloody sputum.
The bubonic plague wiped out at least one-third of Europe in the 14th century. Today, it can be easily treated with antibiotics. A Johnson & Johnson antibiotic was approved by the FDA in April 2012 to combat the disease. In laboratory tests, 94 percent of the monkeys given the treatment were cured of the disease and survived.