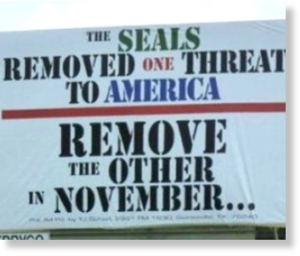 A controversial Texas billboard on interstate 35 that compares President Obama to the late terrorist Osama Bin Laden is now spreading to T-shirts and bumper stickers.
The billboard shows two camouflaged armed men and recalls the Navy SEALS' removal of a threat to America and tells Americans to remove another threat in November [President Obama].
Tom Schad, who put the billboard up originally, told CBS Dallas-Fort Worth: "I'm amazed. It started out there was no reaction. Then all a sudden it evidently got on Facebook. It got on the Internet. Then it was everywhere. It went viral."
Schad started making a few t-shirts for friends, but now has many orders.
Schad falsely claimed that President Obama took all the credit for the death of Bin Laden: "He needs to understand its 'we', a team effort. He didn't pull the trigger those seals pulled the trigger."
Retired Marine Roger Herman has printed up one thousand bumper stickers and cliams that they were all ordered on Tuesday night.
However, some people have complained that the ad as advocates violence against President Obama.