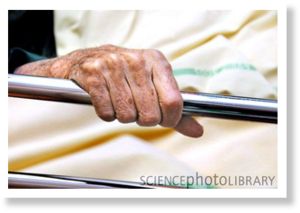 Hundreds of patients are dying every year after becoming dehydrated or malnourished in Queensland public hospitals.
Hunger and thirst were either wholly or partly to blame for more than 2000 patient deaths last financial year and 10 per cent of those weren't malnourished or dehydrated when they were admitted, according to Queensland Health figures obtained by
The Courier-Mail
under Right to Information laws.
Most of the patients were elderly, prompting concerns they are being neglected because of
staff shortages
and a lack of supervision at meal times.
Stakeholders warn it's only going to get worse following
State Budget cuts
while others say the fault lay with under-resourced nursing homes where most of them come from or fasting patients who are continually bumped for surgery.
The Medical Error Action Group said it was a nationwide problem exacerbated by lack of supervision at meal times and the belief older patients were just "bed blockers'' who would die anyway.
"It's neglect, just sheer neglect of the elderly in hospitals and they're not supervised in meal times,'' Medical Error Action Group spokeswoman Lorraine Long said.
"I think it's like if you're at a certain age in hospital, who cares, you're going to die.''
Ms Long said for hygiene reasons, the food handlers couldn't unwrap or take lids off the food when it's delivered, but neither could many elderly patients.
"It's then up to the nurse on duty to come around to the patient to make sure they eat it, if they can,'' she said.
In the 2011-12 financial year, dehydration was either the principal or secondary cause of death for 1190 patients who died - up from 1178 in 2008-09. Of those, 218 were not dehydrated when admitted.
There were another 923 cases last financial year where malnutrition was either the principal or secondary cause of death - up from 676 in 2008-09. Of those, 43 were not malnourished when admitted.
Health Minister Lawrence Springborg said the situation was "unacceptable''.
"Without getting in and understanding each individual case, you would actually hope in a hospital environment, the issue of basic nutrition and hydration would be something pretty easy to control you would think,'' he said.
Mr Springborg said hospital staff should take the time to ensure the packaging was removed, particularly for patients who would struggle with it.
"The simple reality is a person who's got a dexterity issue, should they actually be presented with a fruit juice in a foil covered thing where it hasn't been pulled back for them? That doesn't take a lot of time to do,'' Mr Springborg said.
"It's about getting the basic stuff right and that's what we've got to do...and I'm not going to accept shroud waving and excuses.''
Queensland Nurses Union secretary Beth Mohle said the issue was complex and hospitals weren't necessarily to blame.
She said people could have medical conditions that affected their ability to swallow, such as stroke patients.
"The main issue is age. Older people do lose their appetite and it is really almost a full-time job to keep some older people interested in their food and fluid intake,'' she said.
"That's why it's important to have appropriate numbers and skill mix of people working in aged care facilities. If we haven't got appropriate staffing numbers and skill mix of people to understand that nutritional integrity is really important, then patients can easily deteriorate."
Australian Medical Association Queensland president Alex Markwell said malnutrition was a common medical problem and patients with cancer and cystic fibrosis particularly struggled to maintain adequate nutrition levels.
"A lot of people in hospitals have some form of malnutrition but that's not because we're not trying to fix it,'' Dr Markwell said.
"Putting a feeding tube down, food supplements, all of those things help but they're not the same as if you were able to eat as much as your body needs through the normal way."