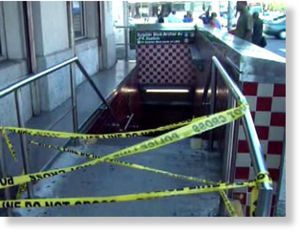 New York - Three people were injured in a stabbing on the escalator of a subway station in Queens Wednesday morning.
Earlier reports indicated as many as 7 people stabbed.
An MTA spokesman said that Dina Saint-Fleur, 25, slashed at least two people after getting into a dispute on a J Train around 8:45 a.m.
The argument continued while they were riding the escalator on the way up to the street.
Princess Llsop, 24, Antione Roddy, 34, and Andres Nova, 42, were injured in the attack. Llsop and Roddy are a couple, an MTA spokesman said, and were arguing with Saint-Fleur on the train. Nova fell during the incident on the escalator, and his injuries may have come as a result of the fall.
Witnesses claim a bumping incident led to the violence.
"It was a simple bump which is inevitable, it's rush hour, we're all going to bump into each other," Elizabeth Nieves, whose friend witnessed the alleged attack, told 1010 WINS' Carol D'Auria.
The victims are being treated for their injuries at Jamaica Hospital, EMS said.
A box cutter was recovered.
E and J trains bypassed the Sutphin Blvd-Archer Avenue Station in Jamaica during the investigation, but service resumed at about 10:30 a.m.