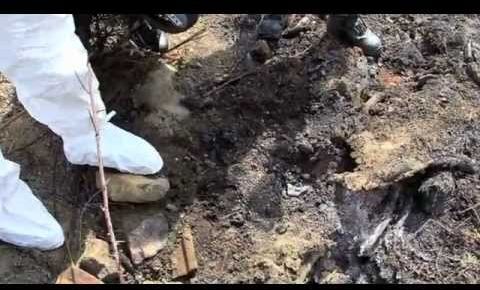 At 9pm on Sunday evening, April 1 2012, a meteorite stuck in Val D'Orcia near the departments of Radicofani and Sarteano, with coordinates: N 42 ° 56'17 "- E 11 ° 47'34". The fireball left a visible streak in the sky and two small-sized meterorites impacted the Senesi hills, causing a patchy fire most likely due to a big heat wave. There's a second site but we are not yet able to reach it.
With the intervention of the NBCR Fire Brigade, the Operational Nuclear Biological Chemical and "Radfiottivo" of the Department of Siena, the point of impact was identified, the fire was extinguished and soon samples of suspected carbonaceous Chondrite were found. Investigators conducted analyses to determine the type of material.
No radioactivity was registered at the point of impact, an area ​​about 60cm in diameter and up to half a meter deep.
A thermal camera registered 756 degrees celsius even though the impact happened more than 18 hours earlier.
Dozens of glowing points of several thousand degrees were detected on the thermal camera's monitor.
Thanks to Simone Seddio of Astrofili ANTARES of Legnano.