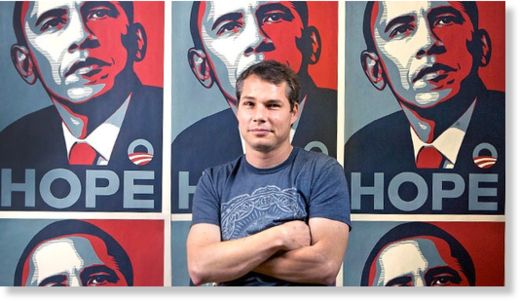 The artist who created the
HOPE
poster that came to symbolize Barack Obama's 2008 presidential campaign was ordered to do 300 hours of community service Friday for a criminal contempt conviction but was spared jail time.
Shepard Fairey, 42, of Los Angeles nodded his head several times and said "OK" as U.S. Magistrate Judge Frank Maas told him he must commit no crimes during two years of probation and must pay a $25,000 fine to the U.S. government.
During remarks before the sentence was announced, Fairey called his decision to fabricate evidence in a civil lawsuit he brought against The Associated Press in 2009 the "worst thing I've done in my life." He also apologized.
"I am deeply ashamed and remorseful that I didn't live up to my own standards of honesty and integrity," he said. After the sentencing, Fairey hugged his lawyers, was kissed by his wife, and shook hands with more than a dozen friends who packed into the small Manhattan courtroom.
Maas said the sentence needed to send a message to others who might destroy or fabricate evidence in a civil case that the consequences of covering up what they did is far worse than telling the truth.
But he said Fairey's considerable charity work over a long period of time mitigated the need for prison on a misdemeanor charge that carried a maximum potential sentence of six months.
"Punishment has been and will be in the form of public disgrace," Maas said.
The sentence was announced after Assistant U.S. Attorney Daniel W. Levy warned that no loss of liberty for Fairey would send "a terrible message" to others who might tamper with evidence.
He said the crime had caused the AP "massive financial consequences," and he noted that Fairey personally paid only $1.15 million of the $1.6 million owed to the AP in the settlement of the civil case. Insurance covered the rest.
Fairey in Fall 2009 admitted that he altered evidence after basing the iconic poster on a 2006 AP photograph. He said he based the poster on one photograph when he actually had based it on another that was nearly identical to the poster he created. The red, cream and light-blue image shows a determined-looking Obama gazing upward, with the caption
HOPE
.
After the sentencing, AP President and CEO Gary Pruitt said in a statement that everyone at the company was "glad this matter is finally behind us."
He added: "We hope this case will serve as a clear reminder to all of the importance of fair compensation for those who gather and produce original news content. "
In court papers, Levy noted that revenues at three companies Fairey controlled doubled from roughly $3 million in 2007 to $6 million in 2009 while he was honored repeatedly, including being chosen to design the official poster of Obama's 2009 inauguration and commissioned to create the cover image of Obama for
Time
magazine's 2008 Person of the Year, which was displayed in an exhibition at the National Portrait Gallery.
Defense attorney Daniel M. Gitner said prior to sentencing that his client's reputation has been damaged because he "can always be dismissed as someone who's dishonest."
He urged no jail time, saying Fairey suffered from the most serious form of diabetes, had undergone two eye surgeries and was "at constant risk of going blind."
Fairey declined to comment after his sentencing but issued a statement through a spokesman that said he used most of the money he earned from the poster to create more posters and stickers and make donations to the Obama campaign and other causes he supported.
Fairey has said he earned "modest" profits of $150,000 while a forensic accountant hired by the AP and cited in government papers estimated that Fairey earned gross profit of more than $1 million and a licensee of one of his companies earned about $988,000.
"My wrong-headed actions, born out of a moment of fear and embarrassment, have not only been financially and psychologically costly to myself and my family, but also helped to obscure what I was fighting for in the first place - the ability of artists everywhere to be inspired and freely create art without reprisal," Fairey said.
Source: The Associated Press