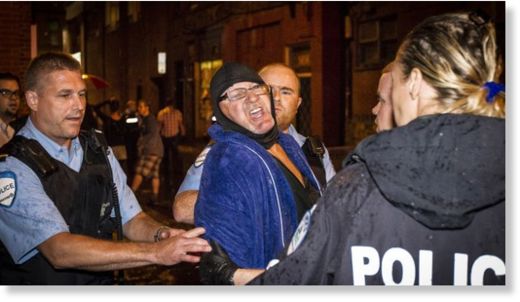 Montreal - The suspect in a deadly shooting at a rally following the election of Quebec's new separatist premier was arraigned Thursday on 16 charges, including murder, attempted murder and possession of explosives.
Richard Henry Bain, 61, of La Conception, Quebec, made his first appearance in court behind protective glass after being accused of opening fire outside the midnight victory rally Tuesday for Pauline Marois of the Parti Quebecois. Prosecutors said that after the shooting, Bain used a flare to light a small fire.
The heavyset Bain, wearing a white T-shirt, appeared calm and alert during his appearance in the highly secured courtroom. He spoke briefly with his court-appointed lawyer but did not address the court, and there was no plea. Bain is scheduled to return to court Oct. 11.
The shooting killed Denis Blanchette, 48, and wounded a 27-year-old just outside a Montreal theater. The suspect's gun jammed after the initial shots were fired, a Quebec police official said Thursday, possibly saving lives.
Prosecutor Elaine Perreault said outside the courtroom that Bain had two weapons on him and three more in his car nearby. She said the weapon used in the shooting was a legally registered long gun.
Weapons charges include negligent storage of weapons and ammunition. The weapons he had in his possession include a 9mm Luger, a Beretta, a Ceska Zbrojovka carbine, a semi-automatic 22LR and 357 mag. revolver.
Bain, who owns a hunting and fishing lodge, had many more guns at home including shotguns, almost all of which were registered, Perreault said.
When asked if Bain targeted the premier, Perreault said only that there might be additional charges. She said authorities were continuing to investigate the motive.
Bain was in a "proper state of mind" to appear in court after spending some time in a hospital, she said.
Elferide Duclercville, Bain's court-appointed lawyer, said she had not been able to meet her client before court and was rushing after the hearing to continue their brief discussion of a few seconds while he was in the box.
Meanwhile, neighbors and acquaintances of Bain said he was a friendly but often frustrated businessman who had overseen several failed ventures but never had any public outbursts, leaving them to wonder how he could be charged with such crimes.
People who know Bain, whose lodge is 90 miles north of Montreal, recalled his complaints about bureaucracy but could think of no political grievances he held.
The masked gunman, wearing a bathrobe, was shown on television ranting and shouting "The English are waking up!" in French as police dragged him away after Tuesday's shooting.
He didn't put up any resistance, said Lieut. Guy Lapointe of the provincial police.
The mayor of La Conception, Maurice Plouffe, said he was "very surprised" to hear Bain was tied to the shooting and said the images of the suspect being dragged away by police "were not easy to watch." Plouffe said Bain was sometimes frustrated in his dealings with the city after seeing a number of zoning requests were rebuffed, but he added, "I have never seen him become aggressive; he was quite normal."
A man full of ideas and proposals, Bain, however, seemed unlucky in his business ventures.
"He had many projects, but not many of them materialized," Plouffe said.
A list of members of the Mont Tremblant Chamber of Commerce describes Richard Bain as the owner of Les ActivitDes Rick, which promotes itself as a major fly-fishing destination.
Police have said there is no reason to believe anyone else was involved in the shooting.
The attack shocked Canadians, who are not used to such violence at political events and have long worried that gun violence more often seen in the U.S. could become more common in their country.
The victims worked at production company Productions du Grand Bambou Inc, a person answering the phone at the Montreal company confirmed. Friends of Blanchette, a lighting technician, packed a downtown Montreal street Wednesday night in a candlelight vigil outside the hall where he was killed.
Marois was whisked off the stage by guards and was not injured. She later called the shooting an isolated event and said it was probably a case of a person who has "serious health issues."
It was still not clear if the gunman was trying to shoot Marois, whose party favors separation from Canada for the French-speaking province. Marois had just declared her firm conviction that Quebec needs to be a sovereign country when she was pulled off the stage.
"What's going on?" she asked her security detail. The crowd apparently was unaware of what had happened.
The separatist Parti Quebecois party's victory is unlikely to signal a new push for independence. Opinion polls show little appetite for a separatist referendum. Previous referendums on separatism were rejected by voters in 1980 and 1995.
Source: The Associated Press