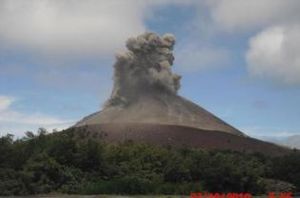 Bandarlampung - Volcanic ash from the increasingly active Anak Krakatau has reached a number of areas in Lampung, prompting officials on Monday to issue a warning for local residents and tourists.
"The ash was carried by wind from the southeast to the south, reaching Bandarlampung," Nurhuda, who heads the observation and information section of the Meteorology, Climatology and Geophysics Agency (BMKG) in Lampung, said according to state news agency Antara.
Nurhuda said the ash fell over several subdistricts in Bandarlampung, about 130 kilometers away from Anak Krakatau.
"It is rather unusual for the dust to be this thick,
" said Juniardi, a resident of Bandarlampung who complained that the falling dust was also hampering visibility.
Officials warned that the ask posed health hazards and asked local residents to wear masks when going outdoors or driving motorcycles.
"We also advise fishermen and tourists not to come within a radius of 3 kilometers of Anak Krakatau. The thick plumes of smoke sent off by Krakatau contain toxic material that is hazardous for your health," said Andi Suhardi, head of the Anak Krakatau observation post in Hargo Pancuran village.
A report from the volcanology office in Bandung shows that the activities of Anak Krakatau has been on the rise over the past few days, reaching almost 90 eruptions per day.
Nurhuda said the report showed the volcano spewed red hot lava up to 300 meters above its peak. "More than 100 volcanic quakes and tremors have been recorded," he added.
Anak Krakatau, or child or Krakatau, about 130 kilometers west of Jakarta, was created by the same tectonic forces that led to the 1883 Krakatoa eruption that killed tens of thousands of people.
Antara