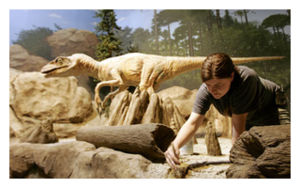 Creation Science Hall of Fame plans to honor scientists who further the idea that God created the world 6,000 years ago
.
A stretch of interstate in northern Kentucky may soon be the official capital for creationism fans across the globe.
Online-only institution the Creation Science Hall of Fame hopes to establish a real-life creationism center located between
the Creation Museum
and planned creationism theme park Ark Encounter.
The hall of fame website was launched in February and honors "those who honored God's word as literally written in
Genesis
." Any scientist who the institution believes furthers the scientifically inaccurate idea that God created the world 6,000 years ago can be included.
"We honor these people, not because we believe everything they say, but because they made critical contributions to creation science and to the explanation of the
Genesis
story," secretary/treasurer of the hall of fame
Terry Hurlbut told the Cincinnati Enquirer
.
There are several creationism institutions in the US, including another creation museum in Texas and a mobile museum that takes fossil exhibits to churches and schools. The hall of fame would solidify northern Kentucky as the center for creation-tourism.
The Creation Museum opened in May 2007 and was built by Answers in Genesis, the Australian ministry that is also behind Ark Encounter.
Ark Encounter - which would feature a life-size replica of Noah's Ark - was supposed to break ground in Kentucky in 2011, but has been unable to reach its $24.5m fundraising goal.
Creation Science Hall of Fame organizers are asking for between $2m and $3m and would feature biographies, pictures, and artifacts of inductees.
Their website honors 104 deceased male scientists including Leonardo Da Vinci, Michael Faraday and Guglielmo Marconi. To explain why these individuals are included, the site excerpts biography information from the book
Men of Science, Men of God
, written by a man widely recognized as the father of creationism, Henry Morris.
Honorees also include 12 prominent living figures in the creation science field - again all male. The real-life hall of fame would also include artifacts from people listed on the site's honorable mention list, which features 58 male recommendations from website readers and the hall of fame committee.
In a May 2012 Gallup poll 46%
of Americans said they believe God created humans in the present form.
Update, 11am Wednesday
: Founder and president of the Creation Science Hall of Fame, Nick Lally told the
Guardian
that the hall of fame is an opportunity to honor scientists who are taking a risk by advocating creationist beliefs. "That's why we honor those who honor God's word as literally written in
Genesis
," Tally said. "Because they do stick their necks out, they do say what their observations are."
Lally, a former public school teacher, said the Creation Science Hall of Fame is also an educational tool for students, especially those that are homeschooled. He hopes the brick and mortar version of the website will be open in the next five years.