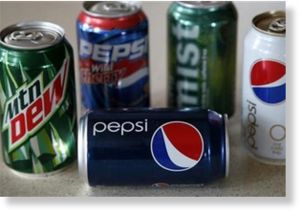 The New York State Attorney General issued subpoenas in July to three firms that make energy drinks, including PepsiCo Inc, seeking information on the companies' marketing and advertising practices, a person familiar with the matter said on Tuesday.
Besides Pepsi, maker of AMP, Attorney General Eric Schneiderman also sent subpoenas to Monster Beverage Corp and Living Essentials LLC, maker of the 5-Hour Energy drink, said the source, who declined to be identified, citing lack of authorization to speak to the media.
A spokeswoman for Schneiderman declined to comment, as did PepsiCo.
Living Essentials also declined to comment beyond its July offering memorandum in which it said that it had recently received an inquiry from a state attorney general asking for documents relating to its product and marketing.
The company said in the memorandum, which was distributed in connection with a debt offering, that it was responding to the inquiry.
Monster also declined to comment beyond its August U.S. Securities and Exchange Commission where it stated that it had received a subpoena from an unspecified state attorney general. Coca-Cola and Dr Pepper Snapple, which make the NOS and Venom energy drinks respectively, said at the time that they did not receive subpoenas.
Schneiderman is examining whether the companies overstated the benefits of ingredients in the drinks while understating the role of caffeine, a common stimulant that industry critics believe to be the main active ingredient, the source said.
At least one Wall Street analyst found comfort in the narrow scope of the subpoenas.
"We think changes to labeling and marketing related to source of stimulant are unlikely to materially impact energy drink sales," Stifel Nicolaus analyst Mark Astrachan wrote in a research note.
Energy drinks, which can have less caffeine per ounce than strong coffee, make up a fast-growing sector of an otherwise stagnant market for carbonated soft drinks.
Monster is the leading U.S. energy drink by volume with nearly 39 percent of the U.S. market, but Austria's Red Bull has the highest share by revenue, due to its premium price.
The latest move on the energy drink industry follows New York City Mayor Michael Bloomberg's plan to propose a far-reaching municipal ban on sales of large-size sugary beverages by restaurants, mobile food carts, movie theaters and delis.
Monster shares were down less than 1 percent at $59.51 in afternoon trade on the Nasdaq. PepsiCo was up 2 cents at $73.19 on the New York Stock Exchange.
Source: Reuters; additional reporting by Joy Ferguson in New York and Sakthi Prasad in Bangalore