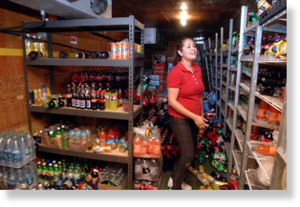 More earthquakes shook Imperial County overnight, part of a swarm of hundreds of temblors that has the region on edge. More damage was uncovered Sunday night, including about 20 mobile homes that suffered damage to their foundations. Photos show merchandise shaken from store shelves, and part of a home's terra-cotta roof collapsed.
A number of families were displaced and hospital patients evacuated as a result of a swarm of hundreds of earthquakes.
No deaths or critical injuries were reported as a result of the quakes, the largest of which measured magnitudes
5.3 and 5.5
. There appeared to be fewer quakes overnight Monday compared with Sunday.
Some buildings were damaged by the earlier quakes, including 20 mobile homes that shifted from their foundations, according to the Imperial County Office of Emergency Services. The office was working with the American Red Cross to set up a shelter for displaced families at the Imperial Valley College gymnasium.
The quakes cause scattered power outages, including at Pioneers Memorial Hospital in Brawley, which lost power for about three hours. Assistant hospital administrator Art Mejia said generators immediately kicked in, but officials decided to evacuate patients as a precautionary measure in case the facility had suffered structural damage.
"We decided to err on the side of caution," he said.
Patients in critical condition were transferred to other hospitals in the area or in San Diego and Riverside counties, while others were either discharged or moved across the street to a medical office building.
Mejia said Sunday evening that hospital staff and state regulators were walking through the hospital to assess the damage, but so far it appears to be only superficial, including fallen ceiling tiles.
He said they hoped to be able to return patients to the hospital in a matter of hours.
Officials were urging residents to conserve water Sunday, and some schools were planning to close Monday, including Brawley Union High School, schools in the Brawley Elementary School District, Del Rio Community School and Mulberry Elementary.
County officials said updates would be posted on the
Imperial County Emergency Medical Services Agency
and the
Imperial County Public Health Department
's Facebook pages. Residents with questions about issues such as school closures and water issues may call (760) 351-2686.
The earthquakes caused cosmetic damage to at least three buildings dating to the 1930s in downtown Brawley, said Capt. Jesse Zendejas of the Brawley Fire Department. Crews were still assessing other areas of the city, he said, but no injuries had been reported.
The succession of quakes rattled Brawley resident Alfonso Alvarez, who has a business renting "bounce houses" and other party supplies. Alvarez, 28, said he and his family had felt 15 quakes over 2½ hours, and after the biggest one, had relocated to the front yard.
"It's been pretty bad. Some of them are slow and then they get intense," he said. "We're so anxious right now we can't sit still."