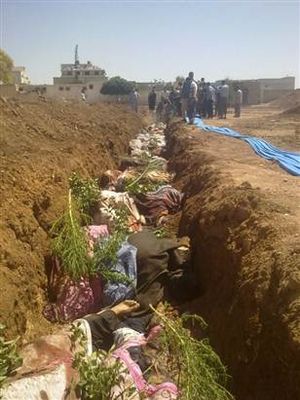 Syrian opposition activists
accused
President Bashar al-Assad's army on Sunday of massacring hundreds of people in a town close to the capital that government forces recaptured from rebels.
In the town of Daraya, southwest of Damascus, some 320 bodies, including women and children, were found in houses and basements, according to activists who said most had been killed "execution-style" by troops in house-to-house raids.
Activists uploaded several videos to the Internet showing rows of bloodied bodies wrapped in sheets. Most of the dead appeared to be young men of fighting age, but at least one video showed several children who appeared to have been shot in the head. The body of one toddler was soaked in blood.
Due to restrictions on non-state media in Syria, it was impossible to independently verify the accounts.
Clashes are raging across Syria as the 17-month-old rebellion grows increasingly bloody, particularly in the northern city of Aleppo, where the army and rebels appear stuck in a war of attrition.
Fighting in Aleppo on Sunday was the heaviest in the past week, according to Reuters journalists on the ground.
Fighter jets dropped bombs and fired missiles on rebel-held districts in the south of Aleppo, Syria's largest city, as residents fled in panic. Reuters journalists there heard heavy explosions as clouds of black smoke rose a mile into the air.
The uprising, which began as peaceful protests, has become a brutal civil war. United Nations investigators have accused both sides of war crimes but laid more blame on government troops and pro-government militia than on the rebels.
The killings in Daraya, a working class Sunni Muslim town that sustained three days of bombardment before being overrun by the army on Friday, raised the daily death toll to 440 people on Saturday, one of the highest since the uprising began, an activist network called the Local Coordination Committees said.
The official state news agency said: "Our heroic armed forces cleansed Daraya from remnants of armed terrorist groups who committed crimes against the sons of the town."
The death toll for the following day, Sunday, was more than 90, including civilians and fighters, according to another activist network, the Syrian Observatory for Human Rights.
It said at least eight people were killed and dozens wounded on Sunday night when security forces shelled the southern town of Basra al-Sham in Deraa province, with the death toll likely to rise as many of the wounds were severe.
Regional plot
Assad, who met an Iranian parliamentary delegation in Damascus on Sunday, said the crisis was the result of Western and regional states trying to crush Syria's role in the "resistance" against Western and Israeli domination in the region.
"
What is happening right now is not just a plot directed against Syria but the region as a whole
, of which Syria is a foundational stone," he was cited as saying by state news agency SANA. "The Syrian people will not allow this plan to reach its goals, no matter the cost."
The United Nations estimates that more than 18,000 people have been killed in the conflict that pits a mainly Sunni Muslim opposition against a ruling system dominated by the Assad family - members of the Alawite faith, an offshoot of Shi'ite Islam.
Reuters reporters in a southern part of Aleppo saw jets swoop over the city as thick pillars of smoke rose into the air. Residents fled in panic as rebel gunmen filled the streets, firing anti-aircraft guns mounted on trucks at a jet and helicopter flying overhead.
Rebels say they control at least half the city of 2.5 million, but their hold is fragile as long as Assad's forces can unleash their air power against fighters who are comparatively lightly armed. Some rebels in Aleppo were firing assault rifles at a helicopter gunship shooting down at them.
Egypt four-way initiative
Diplomatic efforts to stop the violence in Syria are stalled by a stalemate dividing Western countries, Gulf Arab states and Turkey - who all support the opposition - and Iran, Russia and China - who support Assad.
With veto-wielding Russia leading resistance to action against Assad, the U.N. Security Council remains deadlocked.
Egypt is seeking to arrange a four-way meeting with Turkey, Saudi Arabia and Iran, the main regional players in the conflict. Iran, a Shi'ite power, is Assad's main backer, while Saudi Arabia is believed to be supplying weapons to the rebels.
Iran accuses its foes in the West and the Arab world of fuelling the conflict by arming the opposition. Deputy Foreign Minister Hossein Amir-Abdollahian welcomed Egypt's initiative.
"Iran has its own views about the political process in Syria and will put forth these views upon the formation of this committee," he said. "We see any foreign intervention, terrorist actions and armed movements against the wishes of the people of Syria."
The Iranian parliamentary delegation that met with Assad also visited Vice-President Farouq al-Sharaa. It was Sharaa's first public appearance in weeks, quashing activist rumours that he had defected to the opposition.
Alaeddin Boroujerdi, head of the delegation, said Tehran had also suffered from "terrorism" and would continue to support the Syrian government.
"Just as Iran suffered from terrorism and overcame that difficult period, Syria will be able to do so as well," state news agency SANA quoted him as saying. "Syria's security is Iran's security."
(
Additional reporting by Marwan Makdesi in Damascus, Yeganeh Torbati in Dubai and Tamim Elyan in Cairo; writing by Erika Solomon; editing by Peter Graff
.)