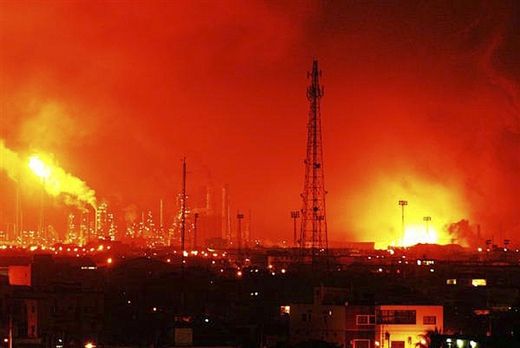 A gas explosion at a Venezuelan oil refinery -- one of the world's largest -- killed at least 24 people, many of them soldiers stationed there, and injured dozens more, Vice President Elias Jaua said Saturday.
The local governor said the victims included a 10-year-old boy.
"There's no risk of another explosion," said Falcon state Gov. Stella Lugo, who added that at least 53 people were hurt.
The Amuay refinery, in western city of Paraguana, is Venezuela's largest, producing some 645,000-barrels a day.
"There was a gas leak," Energy Minister Rafael Ramirez told state TV. "A cloud of gas exploded ... it was a significant explosion, there are appreciable damages to infrastructure and houses opposite the refinery."
Emergency workers were at the scene, where smoke and flames could be seen over the facility. Inhabitants of the immediate area were evacuated, authorities said.
The refinery is run by PVDSA, the government-run oil company that has struggled with repeated refinery problems in recent years, affecting its production figures and ability to fulfill ambitious expansion plans.
Power faults, accidents and planned stoppages for maintenance have hit exports from South America's biggest crude producer and OPEC member.
Ramirez said operations at the refinery were stopped and that officials hoped to restart production in two days.
The Associated Press and Reuters contributed to this report.