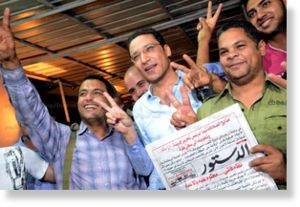 Egyptian President Mohammed Morsi has ordered a newspaper editor accused of insulting him freed from jail.
Mr. Morsi Thursday decreed that no journalist shall be jailed for such alleged publishing-related crimes as libel and slander. It was his first presidential decree since taking law-making powers away from the military earlier this month.
The president's decision came almost immediately after a Cairo court ordered newspaper editor Islam Afifi to remain in jail until his next court appearance in September. Prosecutors say Afifi's
Al-Dustour
newspaper insulted the president and incited disorder by criticizing Mr. Morsi's former party, the Muslim Brotherhood.
The U.S. State Department and human rights groups urged Egypt to uphold press freedom, saying demands for free speech were one reason Egyptians overthrew former president Hosni Mubarak.